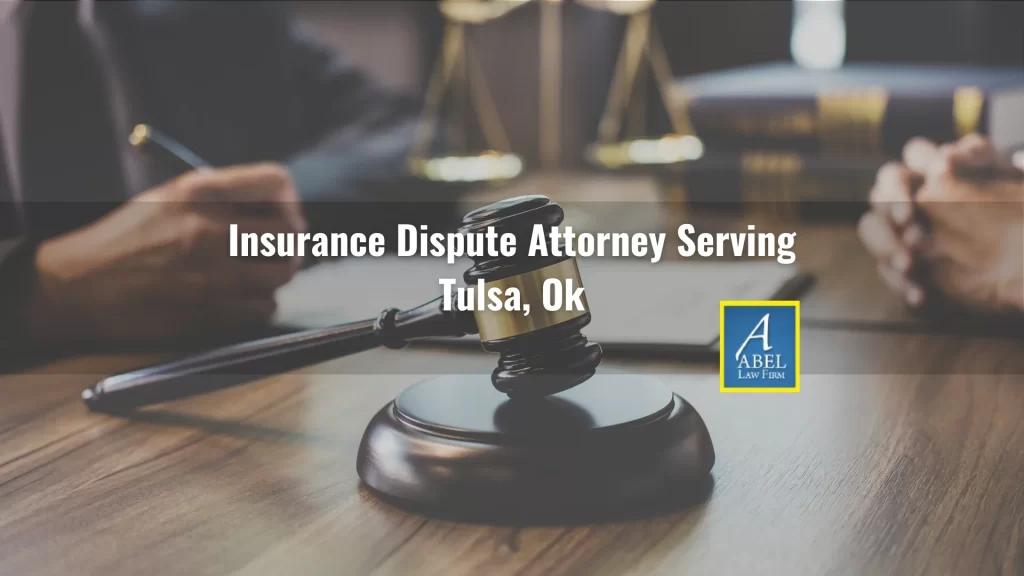 You'll likely have to deal with an insurance company when pursuing a personal injury case. Seeking compensation after an auto accident or another incident that resulted in an injury requires submitting evidence and negotiating a settlement. Our Tulsa insurance dispute attorneys can help you gather the evidence you need to make your case.
Insurance companies and the claims adjusters who work for them are not focused on paying you what you're owed. They focus on paying you the least amount possible to satisfy the claim and optimize profits. As a result, oftentimes, the insurer doesn't treat you fairly, and sometimes they refuse to pay you for questionable reasons.
Insurance companies must treat their policyholders fairly and communicate honestly about the claim. If there's a breach of contract, you could pursue a bad faith claim with the help of Abel Law Firm. Our Tulsa insurance dispute lawyers understand the process of determining if the insurance carrier acted in bad faith and getting your claim reopened and resolved. Contact our skilled attorneys today at (405) 239-7046.
Negotiating Your Insurance Claim
The process of negotiating with an insurance adjuster begins as soon as you submit a demand letter with the financial compensation you're seeking. The adjuster will respond within two weeks with an initial settlement offer.
Although two weeks is the average response time, it could take longer depending on their schedule and the complexity of the details surrounding your injury. If you don't receive a response after two weeks pass, you can call to check on the status.
When the adjuster receives your demand letter, they will send you a reservation of rights letter. It will inform you that they're investigating the claim and could withhold payment if the policy doesn't cover the incident that led to your injury. The letter protects the insurance carrier against future claims and could scare an injured person into accepting a low settlement.
During negotiation talks, the adjuster will ask you questions and might object to specific details to reduce the value of your claim. Major disputes in personal injury claims include:
Coverage: If the policy covers the incident in the claim
Liability: Who caused the injury, and if comparative negligence existed
The severity of the injuries: If the injury caused a permanent medical condition or disability
Type of medical treatment: If there were pre-existing medical problems, and how necessary each treatment was
After investigating, the adjuster might dispute your claim based on one of the factors above. They could deny your claim entirely or decrease the initial settlement offer to match the amount they believe you deserve.
Why Insurance Claims Get Denied
An insurance adjuster must review the facts of the incident and decide if they will approve the claim. They could deny the claim you filed if they find any discrepancies in your injury, treatment, or evidence you submitted.
Material Misrepresentation: You must provide the insurance company handling your claim with up-to-date information. Failing to report material information, such as purchasing a new vehicle, moving to a new residence, or changing banks, could result in a denial. Any changes to your policy could affect your monthly premium. You could commit fraud by withholding accurate details if you don't update your information.
Fraudulent or False Claim: If you falsify any information in your claim, you could risk receiving a denial. Pursuing compensation under your policy in the future will be more difficult if you get into another accident or injure yourself due to someone else's negligence.
Unlawful Act: If your claim involves careless behavior on your part, such as drunk driving, you'll immediately receive a denial letter. You also risk losing your coverage and having a tough time finding coverage from another insurer in the future.
Uninsured Claim: The provisions and exclusions in an insurance policy list the coverage available in the event of an injury. Your claim will be denied if the plan doesn't cover your specific injury.
Pitfalls to Avoid When Filing an Insurance Claim
There are multiple steps you'll have to take to prove your claim. Making the wrong decisions could ruin your chance of receiving a full and fair settlement.
Don't give a recorded statement. The adjuster might ask to schedule a phone call and record the conversation. During the call, they'll ask you questions about the incident, how your injury occurred, and necessary medical treatment and other relevant information. Giving a recorded statement to the insurance company is not legally obligated. Going through with one could result in saying something that damages your claim.
Don't provide irrelevant details. Only give information to the adjuster that directly relates to the claim. Providing details about your family members, employers, or past medical conditions won't help you recover the compensation you want.
Don't sign medical releases early. When your treatment ends, you can sign a medical release to send to the insurance adjuster. The release allows access to your records and any statements the physician wrote regarding your injury and the treatment they performed. If you sign the medical release too soon, your adjuster could request copies of your records before your treatment ends. That could result in a lower settlement because they don't have your complete medical history from the date you started treatment through to completion.
Don't accept the initial offer. Many adjusters will offer a settlement much lower than the injured party deserves to close out the claim as quickly as possible. While it might seem tempting to accept whatever you can get to put this ordeal behind you, it could hurt you. It's essential to wait until all doctors evaluate your condition to determine if you'll need any future treatment. If you need ongoing or future treatment, that could increase the value of your claim.
You Have the Right to Sue Your Insurance Company
If you believe your insurance carrier acted in bad faith, you can file a lawsuit against them. In Oklahoma, it costs around $250 to file a bad-faith lawsuit. You must be able to prove bad faith existed. Merely saying it isn't enough.
Sufficient evidence is necessary, as with any insurance claim. When you submit documentation to the courts, the judge will review it and determine if the jury can see it during the trial.
If you decide you want to sue your insurance carrier for bad faith, you must have evidence showing the following:
The insurance policy required payment in your claim;
The insurance adjuster unreasonably refused to pay you;
The insurer didn't treat you fairly or act in good faith; and
The actions caused you an injury or damages.
Should you not be able to convince the court that bad faith occurred, the judge will likely dismiss your case. If there's enough evidence to support your claim, then your case will go to trial. The jury will only receive evidence deemed appropriate by the judge. After witness testimony and admission of exhibits, the jury will decide if they believe the insurance carrier acted in bad faith.
The process of pursuing a bad-faith lawsuit is time-consuming and overwhelming. It's stressful appearing in court and trying to argue your claim. Dealing with an insurance dispute takes enormous effort to locate crucial evidence and provide a valid argument to the court. Hiring a Tulsa insurance dispute lawyer from Abel Law Firm will improve your chance of receiving the compensation owed to you.
Compensation from Fighting an Insurance Dispute
You could receive compensation for your losses when you file a bad faith claim. You're entitled to recover compensation for your total costs and any additional losses you suffered due to the insurance dispute.
Oklahoma allows for consequential damages that make up for your expenses and losses resulting from mishandling your insurance claim. The most common consequential damages include:
Legal fees
Court costs
Attorneys' fees
Interest on missed payments
Foreseeable losses resulting from the bad faith actions
Your Tulsa insurance disputes lawyer will review all the information in your case to estimate your total losses. Based on their findings, they will try to recover the compensation you need to cover your expenses during the bad faith claim process.
How Much Are Legal Fees?
Abel Law Firm works on a contingency fee basis. A contingency agreement is a contract between a lawyer and the client promising to accept legal fees only after recovering financial compensation. There are no upfront fees or costs when you decide to retain our firm. We won't get paid unless you get paid.
We also offer a no-risk initial consultation. You won't have to pay us anything for your first appointment. We'll meet with you to review the details of your case and advise you on the options in front of you.
Call Abel Law Firm Today
The insurance dispute lawyers from Abel Law Firm proudly serve clients throughout Oklahoma. We believe in seeking justice and fighting to protect your rights. It's our mission to provide legal services you can depend on, no matter what.
Our lawyers have over 130 years of combined experience handling insurance disputes and recovering the compensation our clients deserve. You will receive one-on-one attention from your lawyer and have access to our firm 24/7.
To discuss your insurance dispute claim or get additional information from our Tulsa personal injury lawyers, contact us at (405) 239-7046 today.