Tulsa Personal Injury Attorneys
The experienced personal injury lawyers at Abel Law Firm are ready to stand up for your rights and demand fair compensation if you've been hurt in an accident caused by someone else's carelessness or recklessness in Tulsa or anywhere in Oklahoma.
We have the experience and resources to provide you with the qualified representation you need and deserve. You can count on us to be there for you from beginning to end and secure a fair settlement or verdict.
We handle a wide variety of injury cases, including:
When you call us, you will speak with a knowledgeable legal professional that can answer all your questions and advise you on your rights and legal options. Whether your case is big or small, we will make it our top priority. We believe in open and honest communication, so you receive unmatched customer service throughout your case. When you hire us, you can feel confident knowing you're in great hands.
We believe anyone in a position to give back to his or her community should do so. With our consistent volunteer efforts, we strive to make our community a better place. Our Tulsa personal injury attorneys provide pro bono representation for children through the Oklahoma Lawyers for Children organization. We also support various local organizations, such as Living Hope Ministries, Living Faith Ministries, and Variety Care. We hope our work within these non-profit organizations can assist those in need and put them on a path to success.
Understanding Personal Injury in Oklahoma
The term "personal injury" refers to any physical or psychological injury resulting from an accident or incident caused by another party's negligence or intentional conduct. In Oklahoma, the law acknowledges that individuals and companies must adhere to certain standards of behavior to protect others from harm. If they fail to meet these standards and their actions lead to your injury, you have the legal right to seek compensation for your losses.
For example, Tulsa motorists have a responsibility to exercise caution while driving on I-44 to avoid causing harm to other road users. Likewise, shop owners in Utica Square are responsible for ensuring that their spaces are safe from hazards that might injure their visitors. If they neglect these duties and an individual suffers harm, they can be legally liable for the costs of the losses they have caused.
What Does a Tulsa Personal Injury Lawyer Do?
A Tulsa personal injury lawyer from Abel Law Firm works to protect the rights of individuals who have suffered injuries due to someone else's negligence. These lawyers' responsibilities include:
Gathering evidence
Conducting thorough investigations
Negotiating with insurance companies
Representing you in court if necessary
While some injured people try to handle their claims alone, doing so can be incredibly challenging for anyone without a thorough understanding of Oklahoma's personal injury laws. These challenges become particularly pronounced when you are healing from the traumatic aftermath of an accident. With a seasoned Tulsa personal injury lawyer by your side, you can focus on your recovery while we work tirelessly to secure the compensation you deserve.
What to Do if You Were Injured
If someone else caused your injury, you should immediately seek medical care at an urgent care facility or hospital. Even if your injury is minor, you should still undergo an evaluation to determine if you will need any future treatment. Afterward, it's essential to seek the advice of one of the Tulsa personal injury attorneys from Abel Law Firm. Many people will try to handle their case on their own. However, there are many layers to an injury case that someone without experience might not know how to handle.
Insurance companies will try to pay out the smallest settlement possible. If you don't have legal representation, they might take advantage of that and provide you with a lowball offer, so they close out your claim as quickly as possible. If you're unsure of the maximum benefits you're entitled to; you might be tempted to accept any offer they give you. When you have an experienced attorney by your side, they will fight hard to seek the justice you deserve and get the financial compensation you need.
Personal Injury Case vs. Criminal Case
It's crucial to distinguish between a personal injury case and a criminal case. While both involve wrongdoing, these cases address different aspects of the law. In a criminal case, the government prosecutes someone for a crime against society. Conversely, a personal injury case is a civil matter where an injured individual (the plaintiff) seeks compensation from the party who caused the injury (the defendant).
Notably, a defendant can face both criminal charges and a personal injury lawsuit for the same act, as the two proceedings are independent of each other. If a party whose negligence caused your injuries is facing criminal prosecution for their wrongdoing, this fact does not preclude you from seeking compensation in a personal injury case against them as well.
Helping You Get Justice
Our first step will be to review the details of the incident you were involved in to determine if we can find fault. Oklahoma is an at-fault state, which means the individual found at fault will be held responsible for the victim's injury. If you believe the other person was negligent, you can file a personal injury claim with their insurance carrier. We know how to navigate the insurance claims process to recover the maximum compensation available. We will file a claim and launch a thorough investigation into your accident. We'll begin by collecting the evidence we believe will be necessary to prove the other party should be held liable. We'll leave no stone unturned when building a strong case on your behalf.
Evidence that can help build your case
Police/incident reports
Witness statements
The at-fault party's insurance policy
Video surveillance
Photos
Your medical records
While looking into your accident, you should continue treating your injuries with a physician. Insurance adjusters will look for gaps in treatment or missed appointments to justify denying your claim. You should follow their orders if your doctor refers you to a specialist, requests diagnostic testing, or prescribes medication. Your regular office appointments will show the other person's reckless actions caused your injury.
When our investigation is complete, we will send a demand letter to the insurance carrier with all the details and documents proving the fault. The insurance adjuster will review the claim and submit a settlement offer. We will negotiate with them to reach an agreement you believe is fair. We will file a lawsuit if we cannot reach a favorable settlement or the insurance adjuster denies your claim. A lawsuit can be filed against the insurance carrier and the at-fault individual who caused your injury. Your Tulsa personal injury attorney is skilled in litigation and will be fully prepared to take your case to court.
What Compensation am I Owed?
In any personal injury case, you can seek compensation for compensatory and punitive damages. Compensatory damages are compensation for any losses the injured party suffered due to the accident or injury. Punitive damages are used to punish the individual or entity that was responsible for causing the injury. Depending on the coverage in the liable party's insurance policy, you can receive up to the maximum liability coverage available.
The amount of money your Tulsa personal injury attorney can demand from the insurance carrier will depend on the limit of liability in their policy. Liability limits can cover the victim's compensatory damages. These damages are any expenses you incurred directly from the incident that caused your injury.
The damages you can seek compensation for include the following:
Medical Expenses – Bills for any medically necessary treatment, including ambulance services, ER visits, hospital stays, surgery, physical therapy, assistive medical devices, home health care, and prescription medication.
Lost Wages – Any salary, commission, promotion, or bonuses you could not earn because of your accident. If your injuries are permanent, you can seek compensation for any future wages you won't be able to make.
Pain and Suffering – Significant physical pain and suffering you endured that affected your ability to enjoy your daily life.
Loss of Consortium – An immediate family can seek compensation for damages if the individual's injuries negatively impact the relationship.
Wrongful Death – If a personal injury case victim dies due to the negligent party's actions, their loved ones can seek compensation for expenses, such as funeral and burial costs.
We understand how challenging it can be to deal with a severe injury. You're injured and might be unable to work, and you are worried about how you'll pay your medical bills. You shouldn't have to go through something like this alone. We will be there to provide legal advice and emotional support throughout your entire case. We will work diligently to resolve your matter as quickly as possible to you can move forward with your life.
How Does Oklahoma Calculate Pain and Suffering in a Personal Injury Case?
In Oklahoma, pain and suffering fall under non-economic damages in a personal injury case. These damages compensate you for the physical pain and emotional distress resulting from your injury. However, quantifying pain and suffering is more complex than adding up medical bills or lost wages.
Judges and juries consider various factors to calculate pain and suffering, including the severity of the injury, the pain and discomfort associated with the injury, and the type of medical treatment required. They also consider how the injury impacts your daily life, relationships, and ability to work. An experienced Oklahoma personal injury attorney will understand these complex considerations, assess your cumulative losses, and advocate for a fair calculation of your non-economic damages.
What Is Alternative Dispute Resolution in a Personal Injury Case?
Alternative Dispute Resolution, often known as ADR, offers a way to resolve personal injury cases outside of the traditional court setting. This process can take the form of mediation or arbitration. In mediation, a neutral third party helps the parties involved reach a voluntary resolution. If the dispute moves to arbitration, an arbitrator (or panel of arbitrators) makes a binding decision after hearing arguments and reviewing evidence from both sides. Many individuals prefer ADR over going to trial for its potential to save time and money and its flexibility and confidentiality.
Although ADR options may be less formal than a courtroom trial, you will still need a knowledgeable attorney to protect your rights and interests in mediation or arbitration. At Abel Law Firm, our attorneys have the skills and experience to represent you effectively in ADR proceedings, aiming for your best possible outcome.
What Are the Steps of a Lawsuit if ADR Fails?
If mediation doesn't bring about a satisfactory resolution, your personal injury case might proceed to a lawsuit. Here are the steps that typically follow:
Complaint filing and serving – Your attorney from Abel Law Firm drafts a document detailing your legal claims and serves it to the defendant, initiating the lawsuit.
Response – The defendant can respond to your complaint, often denying some or all of the allegations.
Discovery – Both parties exchange information about the case. This process involves interrogatories, depositions, and document requests, providing the evidence each side needs to build and prepare their case.
Pre-trial motions are legal arguments aiming to resolve the case early or limit the issues for trial.
Trial – If the case doesn't settle or resolve with pre-trial motions, it proceeds to trial. Here, attorneys present evidence and arguments to a judge or jury, who decides the outcome.
A skilled lawyer can guide you through these steps, clearly understanding what to expect at each stage and ensuring your best interests remain at the forefront of the lawsuit.
Does Oklahoma Have a Statute of Limitations for Personal Injury?
Yes, Oklahoma does have a statute of limitations for personal injury cases. This statute stipulates a time limit within which you must file a lawsuit. In Oklahoma, you generally have two years from the date of the injury to initiate a personal injury lawsuit. It's critical to file your case within this timeframe. If you fail to do so, the court will likely refuse to hear your case, and you'll lose the chance to seek compensation for your injury.
Crucially, this time limit may differ depending on the circumstances of your case. You should seek the counsel of a qualified Oklahoma personal injury attorney as soon as possible after suffering an accident-related injury. Abel Law Firm's attorneys are well-versed in these time restrictions and will work diligently to ensure you meet all legal deadlines in your personal injury case.
Contact Abel Law Firm to Speak With a Tulsa Personal Injury Attorney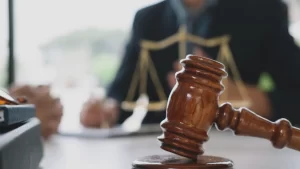 If you or your loved one sustained any injury because of an individual's negligent actions, we might be able to help. Our team of legal professionals is available 24/7 to answer your questions and help guide you toward the right path. We will be happy to meet with you for a consultation to discuss the details of your accident and determine if we can take your case. We don't want to add to your stress by charging you to speak with us about your accident. There will be no risk or obligation to receive our advice and gain an understanding of the legal road ahead of you.
We care about our clients and will prioritize you and your case when you hire us. Our Tulsa personal injury attorneys will always treat you with compassion and respect. We always make ourselves available to be there when you need us to help you through this devastating time. You can rest assured you will be in excellent hands. We know law firms can be intimidating. We strive to provide a comfortable atmosphere for everyone who walks through our doors.
Compensation for your injuries
Whether you're dealing with your own injuries or the injuries of a loved one, we aim to make this situation as easy as possible. We know you don't want your case to drag on for months or even years. That's why we use all the resources to reach a conclusion as efficiently as possible. Our team of attorneys, paralegals, and support staff are dedicated to creating an environment where you feel safe. We won't pressure you into making any decisions about your case you don't want to make. We're here to offer guidance and pursue the options you believe are the best for you.
Call Abel Law Firm today at (405) 239-7046, and we will happily schedule a consultation for you. You will get connected with an attorney who will fight hard for your rights and ensure you're treated fairly by the opposing party. Our office is conveniently located in Oklahoma City, Oklahoma.