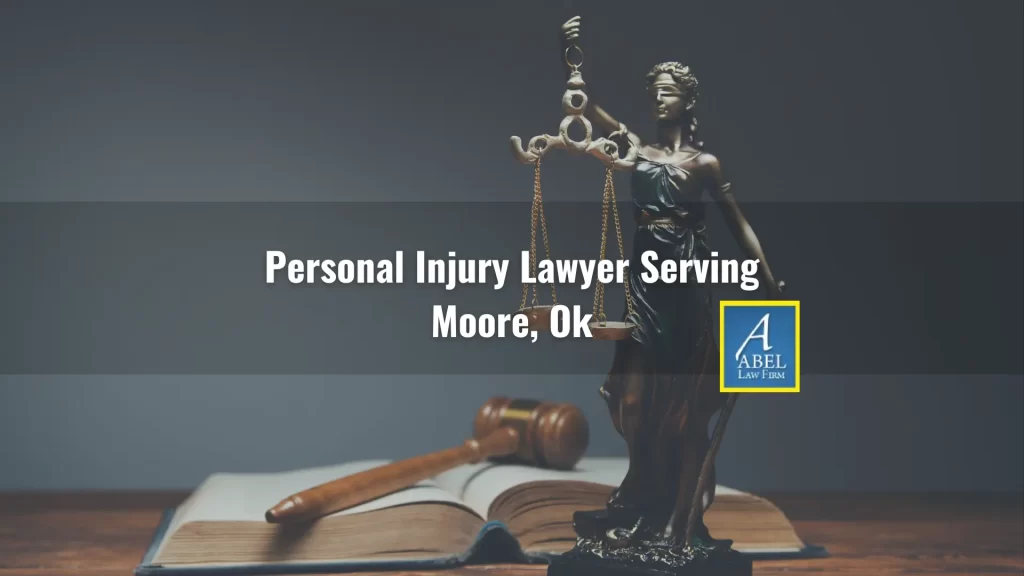 If you have been injured in an accident in Moore that you did not cause, you may be legally entitled to receive compensation. The Moore personal injury attorneys of the Abel Law Firm have been representing Oklahoma residents just like you since 1976.
It doesn't matter whether your injury is due to a traffic accident, a construction accident, a dog bite, an accident on someone else's property, or a defective product. We are ready to take on your case and fight for the full amount of compensation you deserve.
Contact us today at (405) 239-7046 for a free case review. The Abel Law Firm legal team is ready to speak with you about your case so that you know what to expect moving forward. Let us put your mind at ease so that you can focus on your recovery and put this devastating injury behind you.
Why Choose the Abel Law Firm?
If you have been injured and it was not your fault, you need an experienced personal injury lawyer on your side. The legal process of pursuing monetary compensation for an injury can be lengthy and complex. There is a significant amount of evidence and documentation to collect and evaluate. You will need to prove that the other party was negligent to establish that they were at fault for your injury.
The legal system puts an individual at a disadvantage against other parties, such as insurance companies. Their legal teams know how the system works and how to use this to their advantage. They will try to pay as little as possible so they can maximize the amount of money they get to keep. A common tactic is to offer lowball settlements that may sound reasonable to someone who is unfamiliar with what is fair.
At Abel Law Firm, we understand that this is an unbalanced situation. We are here to represent you and to fight to hold the at-fault party responsible. Our attorneys will handle all settlement negotiations in your case, and we know an unfair offer when we see it. We will evaluate all the elements of compensation to which you may be entitled. This may include physical therapy, prescription medicine, medical invoices, future earnings, lost wages, pain and suffering, and emotional distress.
We are here because we care about your well-being and the future of you and your loved ones. We want to understand your situation completely so that we can build a robust case for pursuing what is legally yours.
Practice Areas
The Abel Law Firm team has been serving Moore and the surrounding areas for many years. We have over 130 years of combined legal experience, and we have seen it all during that time. We have successfully represented many individuals in a wide variety of personal injury cases. The types of cases we can help you with include:
No matter how you were hurt or how difficult the road ahead may seem, we are ready to fight for you. We have built our reputation on our ability to get results, handle even the most challenging cases, and take on the big insurance companies. We do it all with an attitude of compassion for our clients and a foundation of solid ethics.
The Community of Moore and Injuries
Moore is the seventh-largest city in the state of Oklahoma and has a population greater than 60,000 people. The city has been enjoying sustained growth across the last decade and offers a high quality of life to the residents who call Moore home. Even given Moore's proximity to Oklahoma City, it still maintains the small-town feel of its roots.
With neighborhoods that are quiet and safe and an exceptional public school system, Moore is an ideal place for families to settle down and enjoy life. However, like any other city, Moore is not immune to injuries. The Oklahoma Highway Safety Office tracks traffic crashes to monitor the level of safety on state roadways.
In the year 2020, there were an average of 169 traffic crashes per day in the state. These caused injuries to an average of 75 people every day. Fatal crashes increased compared to the previous year, with more of these occurring on Mondays than any other day of the week. Unfortunately, nearly half of the fatality victims were not using seat belts or child restraints. In Cleveland County, the injury rate per 100 million vehicle miles traveled was nearly 84 injuries. Only Oklahoma County and Tulsa County had a greater injury rate per vehicle mile traveled in 2020.
Contact a Moore Personal Injury Attorney Today
If you have been injured in an accident that was not your fault, you may be entitled to monetary compensation. You should not have to bear the burden of being financially responsible for an injury that was caused by someone else. You need an experienced attorney on your side to build a solid case and fight for what you deserve.
We understand that this may be a difficult and frustrating time. You may be in pain from the injury itself, and you may not know how long that pain will last. Additionally, you may also be seeing a growing stack of medical bills with no end in sight. As well, you may be out of work due to your injury and wondering if you will ever be able to return to your usual livelihood. No matter what you are facing and how daunting it may seem, you do not have to do this alone.
Call the Abel Law Firm today at (405) 239-7046 to speak with a member of our Moore personal injury lawyers about your injury and your options. Let us build the strongest case possible for you as we pursue all the compensation to which you may be entitled. Our results speak for themselves, and we are proud to have served many satisfied clients. Contact us now.