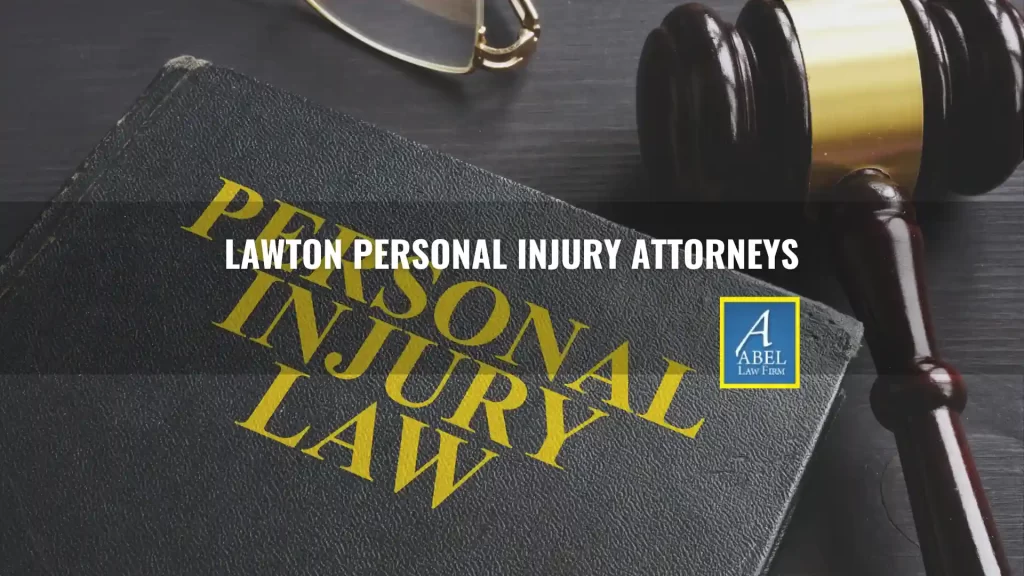 To speak with an experienced Lawton personal injury attorney about your case, contact the Abel Law Firm today. Call (405) 239-7046 to schedule a free initial consultation during which you can discuss your grounds for filing a legal claim and determine your legal options.
At the Abel Law Firm, we know how difficult it can be to recover from an accident. Medical bills, pain and suffering, lost wages, or the wrongful death of a loved one can alter your way of life forever. If you or someone you know has been the victim of another person or entity's negligence or recklessness, the offending party may be liable for your losses.
Practice Areas
At the Abel Law Firm, our attorneys have the experience and resources to help you receive the compensation you deserve. Our staff can handle any of the following claims:
Our Lawton personal injury lawyers can provide the information and representation you need at this difficult time for all legal needs relevant to the claims listed above.
Potential Compensation From A Personal Injury Claim
If you or a family member sustained an injury due to someone else's actions, you have the right to compensation. Each case is unique, but let's delve into the various types of compensation you might receive with the help of Abel Law Firm:
Medical Expenses

: These cover past, current, and future medical bills related to the injury. The expenses can include doctor visits, hospital stays, surgeries, medications, physical therapy, and any necessary medical equipment.

Lost Wages

: If the injury caused you to miss work or reduced your earning capacity, you might recover compensation for those lost earnings.

Pain and Suffering

: This is compensation for the physical and emotional pain you have suffered, such as chronic pain, anxiety, depression, or any lasting trauma.

Loss of Enjoyment

: Injuries can sometimes rob us of the ability to enjoy daily activities, hobbies, or recreational pursuits. You can pursue compensation for this diminished quality of life.

Property Damage

: If your personal belongings, like a car or bike, were damaged in the accident, you could receive compensation for the cost of repairing or replacing them.

Punitive Damages

: In cases of extreme negligence or intentional wrongdoing, a judge or jury might award punitive damages after a trial. This additional compensation is meant as a way to deter others from similar behavior.
How To Protect Your Rights After An Accident
Accidents can shake us to our core, and while your health and safety come first, it's crucial to take proactive measures to protect your rights. Here's a straightforward guide on what you should do after you've sought medical treatment:
Document Everything

: Begin by writing down everything you remember about the accident as soon as you can. Details can fade over time, so capture them while they're fresh. Include things like weather conditions, traffic signals, or anything unusual you noticed. If you took photos at the accident scene or have contact information for any eyewitnesses, save this evidence in a safe place.

Keep Medical Records

: Always retain copies of your medical reports, prescriptions, treatments, and any related expenses. These documents are crucial for proving the severity of your injuries and the resulting costs.

Notify Your Insurance

: Inform your insurance company about the accident. However, be cautious about giving recorded statements or accepting settlements without consulting your attorney first.

Don't Discuss the Accident

: Avoid talking about the accident with anyone except your attorney, especially on social media. An insurance company can use any statements you make or social media posts against you later.

Stay Consistent with Medical Care

: If you skip appointments or do not follow medical advice, an insurance company might take that as evidence that your injuries are not as severe as you say. Ensure you attend all medical appointments and follow through with treatments.

Engage a Personal Injury Lawyer

: Hiring a lawyer ensures you have a professional to guide you through every step, from collecting evidence to negotiating with insurance companies.
By being proactive and meticulous, you not only protect your rights but also strengthen your position should you decide to pursue a claim. Remember, Abel Law Firm can guide and support you every step of the way.
How Much Does A Lawton Personal Injury Lawyer Charge?
Wondering about legal fees can be a concern when you're already grappling with unexpected expenses from an accident. At Abel Law Firm, you don't pay any upfront legal fees. Instead, we earn our fee only when you win your case and you receive compensation. This method of payment is called a contingency fee agreement.
Benefits of the Contingency Fee Structure:
No Financial Risk

: Since you pay nothing upfront, you can hire top-tier legal representation without worrying about draining your pockets.

Motivated Representation

: Our earnings are tied to your success. This means we're motivated to get the best possible outcome.

No Hidden Fees

: With the contingency system, there are no surprise charges. You'll always know what to expect when it comes to costs.

Peace of Mind

: Instead of stressing over hourly rates and mounting legal bills, you can concentrate on your recovery, knowing your legal costs will be taken care of.
So, if you're worried about costly legal bills, rest easy. With Abel Law Firm's contingency fee system, you get dedicated legal support without the financial strain. We're committed to ensuring you get the justice you deserve without breaking the bank.
Contact Us
If you or someone you love has been the victim of another person's poor decisions, you should not have to suffer the consequences alone. Contact a Lawton personal injury lawyer from the Abel Law Firm to discuss the details of your case with a professional. Make the first step toward justice by calling (405) 239-7046 today.