Unfortunately, accidents happen. If you were injured in an accident caused by someone else's negligence, you may be entitled to compensation. The Tuttle, Oklahoma, personal injury lawyers of Abel Law Firm understand the financial and emotional burden that comes after a severe injury.
After an accident, you doubtless have questions. Insurance claims and personal injury lawsuits to recover damages caused by the accident can be intimidating. Additionally, you must file a personal injury lawsuit to recover damages if you cannot negotiate a fair settlement with the insurance company.
A lawsuit must be filed within two years of the accident in Oklahoma. This time period is established by the statute of limitations. The law limits the time you have to file a lawsuit to recover compensation due to someone else's negligence.
Gathering the data and information needed to document your injuries and estimate your potential future medical care takes time. This two-year time frame can pass quickly. Don't let an unexpected accident or injury destroy the plans you have for your future.
During your free consultation at Abel Law Firm, we can explain your rights and review your case. We provide our clients with individualized attention and strategies to pursue the compensation they deserve. Schedule your free consultation today by calling our office at (405) 239-7046 or using our online contact form.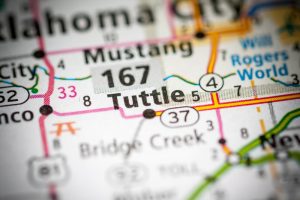 How a Tuttle Personal Injury Lawyer Can Help
After an accident, you normally fill out an insurance claim with the at-fault party's insurance company. It can seem as if there's an endless maze of paperwork, and it can be overwhelming.
After filing your claim, the insurance company may send an insurance adjuster to talk with you. These people are skilled negotiators and may offer you a quick settlement. You mustn't speak with an insurance adjuster without your attorney present.
Your attorney can help prevent you from inadvertently saying anything that might negatively affect your case. They can also help you evaluate any early settlement from the insurance company. More often than not, the first offer from the insurance company will not be a fair offer.
Insurance companies have experienced attorneys and insurance adjusters representing their rights and protecting their financial interests. You should have an experienced and compassionate attorney working for you, too.
The Tuttle Oklahoma personal injury legal team at Abel Law Firm fights tenaciously to get you the maximum settlement for your injuries. Our team helps ensure that you see the right doctors and have your personal property repaired or replaced.
Practice Areas
After an injury caused by someone else's negligence, you want an attorney who has experience negotiating with insurance companies or litigating in court for a fair settlement. Slight variations in case law can make the difference between successfully recovering fair damages or not. Our legal team is skilled in the following areas:
An accident can cause many different types of injuries. These can include physical, emotional, mental, and psychological injuries, such as:
Burns
Catastrophic injury
Depression and anxiety
Heart attack
Internal injuries
Kidney damage
Neck or back injury
Nerve damage
Psychological injury, including PTSD
Soft tissue injury
Torn or ruptured ligaments and tendons
Traumatic amputation (loss of limb)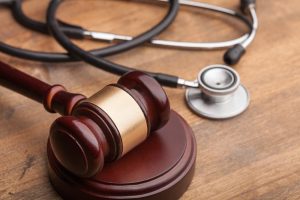 What Kind of Compensation Is Available?
Often, the injury claim's value is limited by the amount of insurance the at-fault party carries. The insurance company will not pay more even when medical expenses are higher. Depending on the circumstances of your case, it may be possible to file a lawsuit against the at-fault party for money beyond the insurance coverage.
If you were the victim of an accident caused by someone else's negligence, you may be entitled to compensation for the following kinds of losses. This compensation is called "damages."
Medical expenses: This includes every medical bill related to the injury. For example, surgery, physical therapy, medical specialists, and prescription medications fall under medical expenses. You may also be entitled to future medical care. This could include surgical procedures, physical therapy, bracing, and home care.
Lost wages: These damages are paid for the time you missed at work because of injuries incurred due to an accident that resulted from another person's negligence. In some cases, you may also be entitled to help find a new job if you cannot return to your current employment because of injuries from the accident.
Property damage: You may be eligible to recover compensation for damaged property during an accident, such as a bicycle, motorcycle, or car.
Wrongful death: Our team understands that no amount of money can take away the loss of a loved one. You may be eligible to recover financial damages to help cover medical expenses and funeral costs.
Pain and suffering: The law allows an individual to be compensated for pain and suffering associated with an injury that was caused by someone else's negligence.
Reclaim Control of Your Life After an Accident
If you were injured in an accident, you know it can turn your life upside down. The experienced and compassionate legal team at Abel Law Firm understands that no compensation can compensate for the physical and mental injuries you may have experienced.
However, recovering compensation can help you pay for expenses and make your path to recovery just a little bit easier. A serious injury can sideline you from work and daily activities for weeks or months.
In some cases, you might not return to your previous level of functioning. It is important to reclaim your control over your life as this significantly impacts your future. When you work with an experienced injury attorney, you have a higher probability of accomplishing your goal.
Why Trust Abel Law Firm With Your Case?
The attorneys at Abel Law Firm are aggressive negotiators and skilled litigators. Our team keeps your goal at the center of our actions. It is important to remember that you are not alone.
Our mission is to fight for your rights inside and outside the courtroom. We have a reputation for protecting our clients and seeking fair compensation for their injuries. Contact our offices today at (405) 239-7046 or contact us online to schedule your free case consultation.