Were you or a loved one injured in an accident in Piedmont, Oklahoma? If so, you don't have to go through this difficult time alone. When someone else's negligent or reckless conduct has harmed you, you have the right to seek just compensation for your injuries and losses. Hiring an experienced personal injury law firm is often the first step in seeking the justice you deserve. Many Piedmont residents have been helped by our Piedmont personal injury lawyers to get the compensation they are entitled to.
As a personal injury law firm, the experienced attorneys and staff of Abel Law Firm have dedicated themselves to helping victims in Oklahoma who have been injured because of the negligent or reckless acts of others. Established in 1976 by Senior Partner Edwin D. Abel, and now under the guidance of Managing Partner T. Luke Abel, Abel Law Firm is committed to helping you every step of the way during the process of recovering and getting your life back to where it was before you were injured. With offices in Piedmont, Oklahoma City, Broken Arrow, Enid, Moore, Norman, Lawton, Tulsa, our firm serves a large swath of Oklahoma, and we've won many favorable settlements for our clients. Contact us today at (405) 239-7046 to see how we can help you.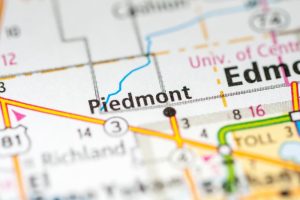 What Is A Personal Injury Claim?
A personal injury claim is a claim you have against another person where their negligent, reckless, and sometimes intentional, conduct caused your injury. Common examples are where you've been injured in a car accident, or where you're injured while at someone else's place of business.
Suffering an injury because of another person's negligence or recklessness can be a traumatic and devastating event. You may be unable to work for weeks or even months as you heal. You may be overwhelmed by mounting medical bills and confused about your rights. Our attorneys are dedicated to helping victims get their lives back in order after an accident. While most personal injuries are minor, some can be severe, and even catastrophic, even resulting in death. If you've been injured or lost a loved one because of someone else's negligent or reckless behavior, we'll fight hard for you to obtain the justice you deserve.
Cases Our Piedmont Personal Injury Lawyers Handle
We handle all kinds of personal injury claims and cases, including the following:
We also handle insurance dispute claims.
How Do You Prove a Personal Injury Claim?
Most personal injury claims stem from someone's negligence. In certain situations, the law assumes that people owe a duty of care to others. For example, vehicle drivers have a duty to drive safely. Similarly, hotel owners and store owners have a duty to maintain a safe and habitable place for guests.
To prove that another person was negligent, you must show that they owed you a duty of care, that they violated that duty, that you were injured, and that the person's violation of their duty of care caused your injuries. A classic example of a negligence claim is where another driver was texting on their phone, ran a red light, and crashed into your vehicle, injuring you. The other driver owed you a duty of care, they violated that duty by texting while driving, you were injured, and their breach of the duty of care (texting while driving) caused your injuries.
What Kind of Damages Can I Recover for My Injuries?
When you suffer an injury that wasn't your fault, you may have medical bills, lost wages while recovering from your injuries and emotional suffering and pain. Every state, including Oklahoma, has laws that allow you to recover money for your injuries. In personal injury cases, you have the right to be compensated for both your economic and non-economic losses. This compensation is called "damages." Economic damages include all direct costs you paid as a result of your injuries, such as medical bills, doctor visits and hospital stays, physical therapy, lost wages from missed work, and any property damage.
In Oklahoma, you can also obtain non-economic damages. Non-economic damages are meant to compensate victims for the intangible losses from the accident, such as pain and suffering. Non-economic damages are meant to cover abstract losses that can't be supported with invoices or medical bills. Instead, they're a monetary value placed on the pain and suffering you endured from your injuries.
In personal injury cases, some states follow the law of pure contributory negligence. This means that even if an accident was only one percent your fault, you can't obtain damages from the other person, even if your injuries were 99 percent their fault.
By contrast, Oklahoma is considered a comparative negligence state. Under Oklahoma law, if the accident was 51 percent or more your fault, then you can't recover anything from the other person. But if you're 50 percent or less at fault, then you can obtain money damages from the other person according to your degree of fault. As an example, if you were 15 percent at fault in an accident, then your damages will be reduced by 15 percent.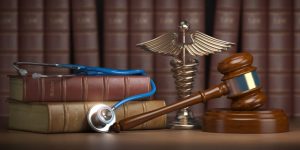 Why Should I Hire an Attorney?
If you've been injured in an accident, you might find yourself in serious financial distress. You may also be confused about what your rights are. With the help of a personal injury lawyer, you can recover the costs of your injury from the responsible party.
An experienced personal injury attorney will work hard to ensure you receive the maximum compensation you're entitled to for your accident-related injuries. An attorney will serve as your advocate and work to get the person who caused your injuries to pay you for your damages. An experienced personal injury attorney will also know which experts to hire to investigate the accident to determine each party's degree of fault, and they and will advocate on your behalf to get the maximum amount of damages you deserve.
If you can't settle your claim out of court, your attorney will file a lawsuit against the other person on your behalf. For personal injury claims, you have a time limit to file a lawsuit. In Oklahoma, that time limit is two years from the date of the accident for most personal injury lawsuits. An experienced personal injury attorney will know the deadlines for filing your claims and will file the necessary court documents on your behalf.
Why Should I Your Piedmont Personal Injury Lawyers
At Abel Law Firm, our dedicated personal injury lawyers fight to secure financial compensation for our clients. Our attorneys and staff have decades of experience in handling all types of personal injury claims. Contact Abel Law Firm now at (405) 239-7046 for a free and confidential consultation.