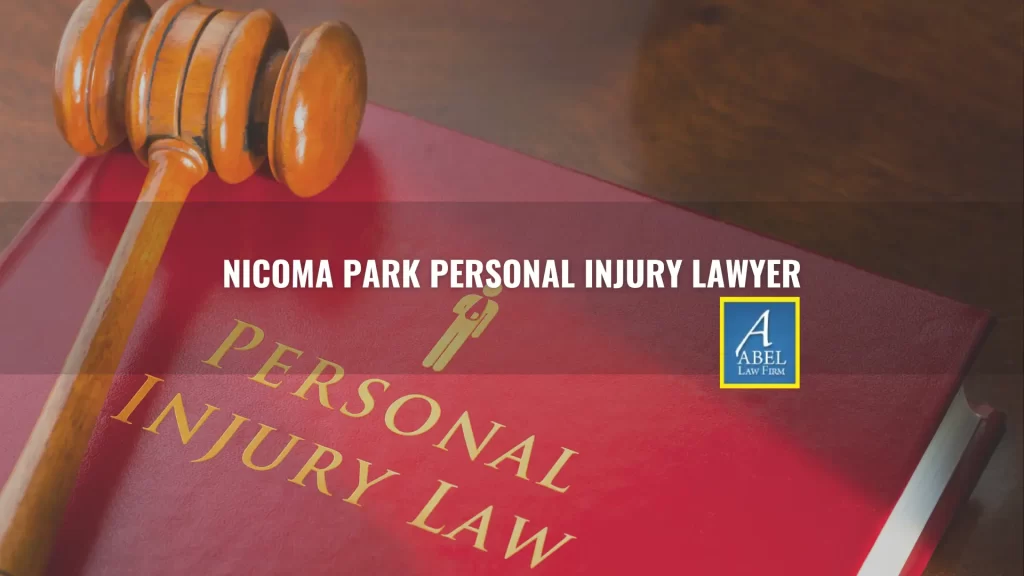 At the Abel Law Firm, our Nicoma Park personal injury attorneys understand how difficult recovering from a serious accident can be. If you have been involved in an accident because of another party's negligent actions, you should not have to face the consequences alone. Physically and fiscally, damages can alter your lifestyle forever; however, with the help of a committed Nicoma Park personal injury lawyer, you may be able to receive compensation for property damage, medical expenses, pain and suffering, as well as lost wages.
If you have been the victim of someone else's negligence, contact the Nicoma Park personal injury lawyers of the Abel Law Firm to fight for the compensation you deserve. Call us today at (405) 239-7046 to speak with a qualified attorney about the details of your case.
Practice Areas
At the Abel Law Firm, we have the experience and resources necessary for handling a variety of cases, including:
If you have been injured in an accident involving any of the conditions listed above, call the Abel Law Firm today to discuss your grounds for filing a claim. Our attorneys can aggressively defend your rights in court, or simply help you negotiate a settlement agreement. Whatever your legal needs are, we can help.
Why You Need Abel Law Firm For Your Oklahoma Personal Injury Case
When it comes to personal injury cases, the legal representation you choose can make all the difference. Your well-being, financial future, and peace of mind hang in the balance. Abel Law Firm stands out as a top choice for individuals in Nicoma Park seeking justice after a personal injury. Here's why:
Decades of Proven Expertise

: With almost 50 years of experience in the legal industry, Abel Law Firm stands as a beacon of trust and experience. We've handled countless cases, each with its own set of challenges, and have consistently delivered favorable results for our clients.

Consistent Recognition

: Our founding attorney,

Ed Abel

, has consistently earned recognition from the Oklahoma legal community. His skills and dedication have led to him being named a Super Lawyer every single year since 2007. This honor signifies that he is not only recognized by clients but also by his peers as being at the pinnacle of professional excellence.

Impressive Compensation Track Record

: We're proud to say that we've secured

more than $100 million in compensation

for our clients. This isn't just a number—it signifies the peace of mind, medical care, and financial stability we've provided for countless individuals and their families.

Dedicated Personal Attention

: At Abel Law Firm, every client is a priority. Personal injury cases can be intricate and emotionally taxing. Our team is committed to guiding you through every step, ensuring you understand the process, and helping you make informed decisions.

No Win, No Fee

: We operate on a contingency fee basis, which means you won't have to pay a dime unless we win your case. This ensures that we're wholly dedicated to your cause and puts your mind at ease regarding legal fees.

In-Depth Investigation

: In personal injury cases, details matter. Our attorneys dive deep into gathering evidence, speaking to witnesses, and consulting with experts to build a solid case that firmly stands in your corner.
Abel Law Firm is about more than winning your case; we aim to restore your peace of mind, secure your future, and deliver the justice you deserve.
Potential Compensation In Oklahoma Personal Injury Cases
If you sustain an injury in Oklahoma due to someone else's negligence, you can seek compensation for a variety of accident-related losses, including:
Medical Expenses

: Covering both current treatments and anticipated future medical costs.

Lost Wages and Earning Capacity

: Compensation for income lost during your recovery and any reduction in your potential future earnings because of your injuries.

Pain and Suffering

: Compensation for physical pain and emotional distress linked to the injury.

Loss of Consortium

: Compensation to address the negative impacts of your injuries on your relationship with your spouse or partner.

Property Damage

: Compensation to cover the cost to repair or replace personal items or vehicles damaged in the incident.

Rehabilitation Costs

: Compensation to cover therapy and other services aiding recovery.

Loss of Enjoyment of Life

: Compensation for the inability to partake in daily pleasures or hobbies post-injury.

Punitive Damages

: Additional compensation awarded in cases of especially reckless or malicious behavior to punish and deter the wrongdoer.
While each case is unique, knowing your rights and the elements of your potential compensation is crucial. Experienced lawyers, like those at Abel Law Firm, can help ensure you get what you deserve.
Protecting Your Rights After An Accident In Nicoma Park
After seeing a doctor following an accident, it's vital to take these steps to protect your right to compensation:
Document Everything

: If possible, return to the scene to take photos or ask someone to do it for you. Collect the names and contact information of any witnesses you can find. Finally, retain all medical records, bills, and any evidence of your medical treatments.

Report the Accident

: Report vehicular accidents to the police and workplace injuries to your employer. Always get a copy of the report.

Avoid Admitting Fault

: Even casual remarks can be used against you. Avoid apologizing or admitting fault in any conversations related to the accident.

Limit Communication with Insurance Companies

: Refrain from providing recorded statements or signing documents from insurance agents without speaking to an attorney first.

Stay Off Social Media

: Refrain from posting about the accident, your injuries, or any legal proceedings online. Such posts can be detrimental to your claim.

Consult an Attorney

: Engaging a personal injury lawyer, like the experienced lawyers at Abel Law Firm, can be invaluable. They'll advise you on your rights, potential compensation, and lead negotiations.
Your well-being is paramount. By diligently following these steps, you not only safeguard your health but also your legal rights, ensuring you're in the best position to claim any due compensation.
How Much Do Our Personal Injury Attorneys Charge?
At Abel Law Firm, we prioritize your recovery and justice over financial concerns. Here's how our fee structure works:
Contingency Basis Explained:
When we say we operate on a "contingency basis," it means that our legal fees are directly tied to the outcome of your case. In simpler terms, you won't owe us anything unless we win compensation for you. Only then do we take a pre-agreed percentage of the recovery as our fee.
Benefits to You:
No Upfront Costs

: Beginning a legal case can be daunting, especially when you're already facing expensive medical bills and lost wages. With our system, you don't have to stress about adding attorney fees to your list of expenses.

Aligned Interests

: Our payment is tied to your success. This ensures we're 100 percent committed to getting the best possible outcome for you.

Peace of Mind

: Knowing you won't be burdened with legal fees unless you win allows you to focus on recovery and rebuilding.
Deadline To File An Oklahoma Personal Injury Lawsuit
According to Oklahoma law, you typically have two years from the accident date to file a personal injury lawsuit against the person who harmed you. If you miss this deadline, you forfeit your right to compensation, which is why it's crucial to speak to a Nicoma Park personal injury lawyer right away.
Contact Us
If you have been the victim of another person's bad decisions, you should not have to deal with the repercussions alone. The Nicoma Park personal injury attorneys of the Abel Law Firm can help you fight for the recompense your accident warrants. Contact us at (405) 239-7046 today to schedule your free case evaluation.