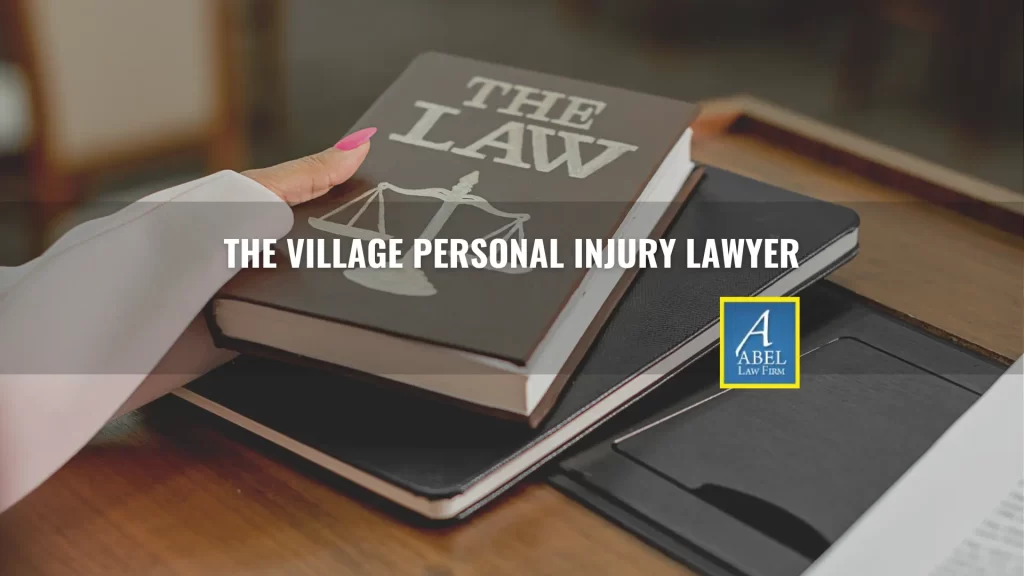 The Village personal injury lawyers of the Abel Law Firm are committed to helping injured persons suffering from the negligence of another individual, business, or entity. We understand how difficult it can be to recover from a serious accident. Medical care is exceedingly expensive, and property damages and lost wages can devastate your bank account.
If you are the victim of another person's negligence or recklessness, you should not have to deal with the repercussions alone. Contact The Village personal injury attorneys at the Abel Law Firm by dialing (405) 239-7046 to discuss your case and determine your grounds for a legal claim.
Practice Areas
Our attorneys at the Abel Law Firm have the experience needed to handle various cases. If you have been the victim of any of the following circumstances, contact us today to discuss your legal options:
Regardless of whether you need an aggressive lawyer who will fight for your rights or a legal consultant who can help you negotiate a fair settlement, the Abel Law Firm is committed to helping victims of negligence and recklessness.
Why You Need A Personal Injury Attorney In The Village
If you suffered injuries in an accident in The Village, you might think, "Why can't I handle this myself?" Here's why enlisting one of the experienced attorneys at Abel Law Firm is a smart move:
In-Depth Legal Knowledge

: Oklahoma's laws relating to personal injury cases are complex and constantly evolving. Our attorneys stay updated on every twist and turn of the law, ensuring you aren't caught unprepared.

No Stone Unturned

: Abel Law Firm delves deep into each case, uncovering evidence and details that those without legal training might miss.

Negotiation Power

: Insurance companies are in the business of minimizing payouts. Our seasoned attorneys know the tactics they use and how to counter them, striving to get you the maximum compensation.

Courtroom Ready

: If your case goes to trial, you want a confident, skilled advocate by your side. We prepare every case as if it will go to trial, ensuring you're always a step ahead.

Peace of Mind

: With us on your side, you can focus on your recovery and well-being, knowing that your case is in the hands of experts.
Choosing to go it alone might seem tempting, but with so much at stake, having Abel Law Firm in your corner can make all the difference. Your well-being and future are too important to leave to chance. Trust in our experience and knowledge, and let's secure the justice you deserve.
Potential Compensation In Oklahoma Personal Injury Cases
In Oklahoma, if you've been injured due to someone else's negligence, you can seek compensation for a variety of losses. These include:
Medical Expenses:

Both past and future medical bills related to the injury

Lost Wages

: Compensation for earnings lost while recovering

Loss of Earning Capacity

: If your ability to earn in the future is impacted

Pain and Suffering

: For the physical and emotional distress from the crash

Property Damage

: To repair or replace damaged possessions

Loss of Consortium

: Compensation for the effects on relationships with spouses or family members

Emotional Distress

: For the psychological impact post-accident

Punitive Damages

: Awarded in cases of extreme negligence, aiming to penalize and deter the offender
Each case is unique, but with the right legal assistance, you can help ensure you recover fair compensation for all the losses you have suffered.
What Does A Personal Injury Attorney Charge?
At Abel Law Firm, we operate on a contingency basis. What does this mean for you? Simply put, we don't get paid until you do. Our fees are determined as a percentage of the final insurance settlement or court award you receive. If we don't succeed in securing compensation for you, then you owe us nothing. It's our way of showing that we're fully invested in your case and that we're committed to fighting tooth and nail on your behalf.
This system offers significant benefits to our clients. First, it ensures that seeking justice doesn't come with financial burdens up front. You won't have to fret about hourly attorney fees or upfront charges. Additionally, this structure motivates us to seek the maximum compensation for your case, as our interests align directly with yours. With Abel Law Firm, you're not just getting legal representation; you're getting a dedicated partner in your pursuit of justice.
What To Do After An Accident In The Village
Accidents can be jarring, and even in the immediate aftermath, it's essential to protect your rights as best you can. Here's what you need to do:
Seek Medical Attention

: Even if you've already seen a doctor, follow up on any prescribed treatments or check-ups. Some injuries might not manifest immediately but can have long-term effects.

Document Everything

: Start a file where you keep all your accident-related materials. This can include medical bills, doctor's notes, prescription receipts, and any other related expenses.

Contact Your Insurance Company

: Report the accident to your insurance company as soon as possible. They'll provide guidance on the claims process and what they need from you. That said, avoid discussing the details of the accident until you talk to a lawyer.

Avoid Social Media

: Refrain from discussing your accident or injuries on social media platforms. Insurance adjusters and opposing lawyers can use these statements against you.

Gather Witness Statements

: If there were any witnesses, try to collect their statements and contact details. Their accounts can be crucial if there are disputes about what happened.

Keep a Diary

: Maintain a daily diary of how you're feeling and the progress of your recovery. This can serve as evidence if you need to demonstrate your pain and suffering.

Avoid Quick Settlement Offers

: Insurance companies might approach you with a quick settlement offer. Always consult with an attorney before agreeing to any terms, as these initial offers are often lower than what you deserve.

Consult a Personal Injury Lawyer

: Engaging a personal injury attorney can make all the difference. We can guide you through the intricacies of the law, giving you the best possible chance of recovering maximum compensation.
Accidents can turn your world upside down. But by taking these steps, you place yourself in the best position to get the justice and compensation you deserve.
Deadline To File A Personal Injury Lawsuit In Oklahoma
In Oklahoma, the general rule is that you have two years from the date of the accident to file a personal injury lawsuit. However, it's crucial to be aware that there are multiple exceptions to this standard. One notable exception is for plaintiffs who were minors when the accident took place. In such cases, the clock on this two-year time frame doesn't start ticking until the plaintiff turns 18, giving them additional time.
Yet, even with these exceptions, it's in your interest to contact an attorney promptly after your accident. Why? Evidence can deteriorate or be lost, witnesses' memories may fade, and critical documentation might be misplaced as time passes. The sooner you reach out to an experienced attorney like those at Abel Law Firm, the better positioned you are to build a strong case.
Contact Us
If you are suffering because of another party's bad decisions, you deserve compensation for your losses. Make your first step toward justice by contacting The Village personal injury lawyers of the Abel Law Firm. Contact us at (405) 239-7046 today to schedule a free initial consultation.