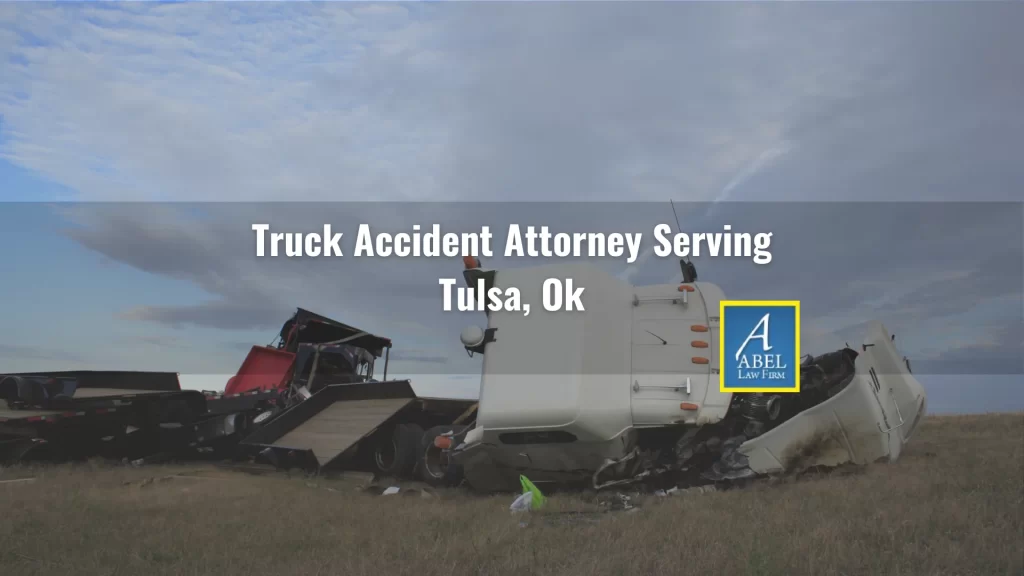 Truck accidents usually cause severe and even fatal injuries. Vehicles like 18-wheelers and tractor-trailers are massive. The injured parties often require medical attention if they collide with a small passenger vehicle. Did you get injured in a traffic crash with a truck? Call Abel Law Firm today. We'll schedule a free consultation with one of our Tulsa truck accident lawyers.
Serious accidents involving trucks are prevalent throughout Oklahoma. Truckers get behind the wheel to travel hundreds of miles, multiple hours a day. Many are fatigued, distracted, or under the influence of alcohol or drugs. Small cars, bicycles, and motorcycles are no match for big rigs.
When the economy is booming, the demand for goods increases. With that increase comes the need for more truck drivers to transport products. An abundance of vehicles on the road means it's more likely that a crash will occur. Many trucking companies expect employees to work overtime to meet their quarterly quotas and stay on schedule. In those situations, safety isn't the top priority.
If you've been injured in a truck accident, call the lawyers at Abel Law Firm today at (405) 239-7046 to discuss your accident and options. We'll honestly assess your case and answer any questions you have.
State and Federal Trucking Regulations
Trucking regulations on the federal and state levels aim to keep our roadways safe. The main goal is to ensure all trucks and drivers don't put anyone at risk of injury. If you drive a commercial truck in Oklahoma, you must meet the following licensing requirements:
Hold a valid commercial driver's license
Be 21 years of age or older for interstate driving (at least 18 years old to drive within Oklahoma)
Speak English at a level necessary to read, write, and interact with others
Have the physical ability to fulfill the duties of the job
No criminal background disqualifies you from employment
All employers must review their trucker's driving records annually to make sure they meet the minimum requirements under the state's laws. They should also provide ongoing training so their employees stay up-to-date on regulations and know how to react in dangerous situations.
Regarding the number of hours each trucker works, it's necessary to ensure adequate breaks and periods of rest. Oklahoma regulations allow for a maximum of twelve hours of driving each day. At hour eight, there's a mandatory 30-minute break. Additionally, they must rest at least ten hours every day and remain off duty for a minimum of 34 hours every seven days. If the driver crosses over state lines, they must follow that state's laws and federal regulations.
Another federal trucking regulation prohibits drivers from consuming alcohol within eight hours of their shift. Blood alcohol concentration (BAC) shouldn't exceed .02 before or during their driving trip.
Specific regulations dictate important labels and weight requirements for commercial vehicles. All trucks transporting products must show an official USDOT number, company name, and logo. A vehicle containing hazardous materials must visibly show a hazardous material marking.
On the federal level, all commercial trucks can't exceed a weight of 80,000 pounds. There also must be no more than 20,000 pounds per single axle or 34,000 pounds per tandem axle. If you're driving in Oklahoma, driving oversized loads within 30 minutes before sunrise or after sunset is prohibited.
Why Truck Accidents Are Dangerous
The National Highway Traffic Safety Administration defines a large truck as any vehicle with a gross weight of 10,000 pounds or greater. Commercial vehicles include:
Semi-trucks
Big rigs
18-wheelers
Box trucks
Tractor-trailers
Flatbed trucks
Firetrucks
Dump and garbage trucks
Tanker trucks
These vehicles' sheer size and weight put other people at risk when there's a collision. In addition to potential injuries from the actual crash, the cargo has a secondary danger. If a trucker transports any toxic chemicals or hazardous materials, an accident could cause them to spill and hurt individuals in other vehicles.
Large commercial trucks will likely jackknife, rollover, or skid across the road in certain situations. If the driver isn't paying attention, they could lose control and collide with another motor vehicle or stationary object. Severe accidents like this create a domino effect, leading to additional accidents involving other cars and pedestrians.
Factors Contributing to Crashes Involving Large Trucks
In most vehicle crashes, driver error is the most common cause. Truck drivers are exhausted from driving far distances, and many fall asleep at the wheel or are less reactive to adverse conditions. Despite the various rules and regulations, truckers and companies put profits over the safety of other people on the road. When that happens, it could wreak havoc on innocent lives.
The most common factors reported causing truck accidents include:
Fatigued or drowsy driving
Distracted driving, such as texting
Alcohol or drug impairment
Speeding
Improperly loaded or overloaded cargo
Lack of driver training
Inadequate vehicle maintenance and repair
If a trucker or the company they work for doesn't take proper precautions, it could result in injury or death. Anyone who crosses paths with a large truck could suffer physically, emotionally, and financially because of someone's negligence.
When you're the victim of a truck accident, you could hold multiple people or entities responsible. Whoever is to blame, you shouldn't have to pay for the expenses you incurred because of another person's careless actions.
Liability in Large Truck Accidents
Depending on who's responsible for the crash, you could file an insurance claim against one or more of the following:
Truck driver
Trucking company
Owner of the commercial vehicle
Individuals who loaded the cargo
Manufacturer or seller of defective parts
The entity responsible for providing maintenance and repairs
Each party in the above list holds liability insurance covering injured individuals after an accident. You could potentially pursue financial compensation from multiple parties to cover the costs resulting from your injury and necessary treatment.
Oklahoma is a fault state when it comes to vehicle crashes. The person or entity that causes an accident assumes responsibility for the victim's injuries, lost income, vehicle damage, and other related expenses.
If you can prove liability on the part of the driver or trucking company, you could seek a financial reward to reimburse you for your losses. You would need to file an insurance claim and submit sufficient evidence showing the at-fault individual caused the crash, and you suffered an injury.
How Abel Law Firm Can Help
The Tulsa truck accident lawyers from Abel Law Firm understand state and federal regulations in the trucking industry. Every year, thousands of people get seriously injured or die because of a truck crash. With over 130 years of combined legal experience, we can investigate the circumstances that led to your unfortunate situation, including:
Trucking company's failure to obey state and federal commercial trucking laws
Driver's failure to safely operate the vehicle
Management hiring an employee without performing a thorough background check
Failure to provide sufficient training programs for the employees
Using defective parts supplied by a manufacturer
Truck company's inadequate maintenance schedule
Worker's failure to promptly repair damage to a truck
The legal procedures for truck accidents are different than small passenger vehicle accidents. If you crash into another car, you could pursue compensation from the driver's auto insurance carrier. When it comes to a collision with a commercial vehicle, multiple options are available.
If you've never dealt with an insurance claim, you won't know who to file with or how the process works. Abel Law Firm is fully capable of taking care of everything for you. We'll file the claim on your behalf and aggressively negotiate a settlement with the insurance company.
If we cannot reach a settlement with the insurance company, we can file a personal lawsuit on your behalf against the responsible parties to seek the highest compensation available. We won't stop fighting until we get the justice you deserve.
How Much Does It Cost to Speak to a Lawyer?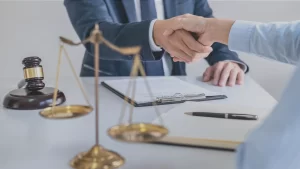 At Abel Law Firm, we understand the financial burden you're facing. Many legal professionals charge an arm and a leg to advise injured individuals. Our Tulsa truck accident lawyers offer free consultations to prospective clients.
There's no risk in speaking with us about the details of your case and receiving the guidance you need. We won't force you to make any decisions you're not ready to make. If you don't want to hire a lawyer, that's your right. We're happy to answer all your questions so you can choose the best option.
Is It Expensive to Retain a Law Firm?
Don't worry about whether or not you can afford a lawyer. Abel Law Firm works on a contingency fee basis. We don't charge any upfront or ongoing fees while we're working on your case.
When we secure a settlement or verdict for you, we'll take a portion of it for our legal fees. We won't require you to pay us anything if we cannot recover financial compensation. We don't get paid unless you get paid.
What Sets Us Apart
Our firm currently holds an AVVO rating of 10. Several of our Tulsa truck accident lawyers received the highest AV rating from Martindale-Hubbell. Our dedication to helping victims of accidents throughout Oklahoma earned us recognition from legal organizations, such as SuperLawyers and Best Lawyers in America.
It's our goal to keep our community safe. We support the Oklahoma Lawyers for Children Organization by providing pro bono representation to young girls and boys. We believe in giving back by participating in charitable events with Living Hope Ministries, Variety Care, and Living Faith Ministries.
Contact a Tulsa injury attorney from Abel Law Firm at (405) 239-7046 to discuss how to pursue compensation for your truck accident injuries.