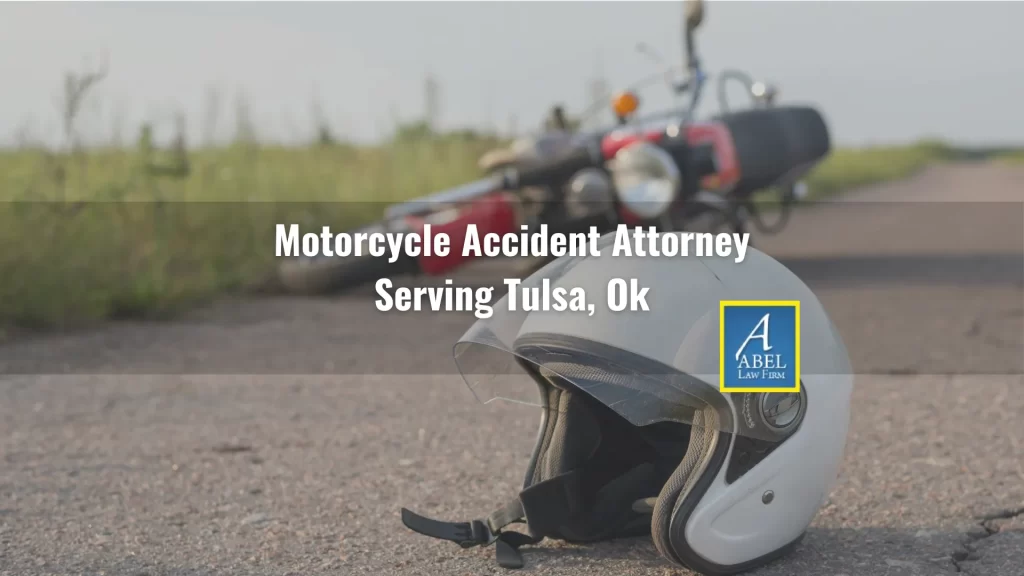 Traveling on the open road on your motorcycle is an exhilarating experience. Unfortunately, motorcyclists sometimes pay too high a price for that freedom when reckless drivers put them in harm's way. A car has a seatbelt, airbag, and other equipment to keep you safe. Motorcycles provide very little protection when an accident occurs. You're likely to sustain severe injuries if you collide with a car, truck, or motorcycle.
Learn how the Tulsa motorcycle accident lawyers from Abel Law Firm can help you. We have decades of experience representing victims of motorcycle crashes. Call us today at (405) 239-7046.
Are Motorcycles Safe?
Motorcycles are much smaller and lighter than passenger vehicles. They lack safety restraints, airbags, and a roof. When you're involved in an accident, there's a good chance you'll get ejected. You could get thrown into another vehicle, tree, or other objects on the road.
Various hazards could cause a motorcycle accident, including:
Road debris: If a car strikes a rock, traffic cone, or other hazards on the road, it leads to minor damage at. When you're on a motorcycle, however, it could cause you to lose control.
Visibility: It's more difficult for a driver to see a motorcycle than a passenger, especially if it's in their blind spot.
Protective barriers: Unlike a car, motorcycle riders don't have a metal frame protecting them from injury.
High-risk behavior: Some drivers drive recklessly or aggressively near a motorcycle, not giving them enough space or yielding the right of way.
Motorcyclists are much more vulnerable to other drivers' mistakes, which is why it's so important to watch for motorcycles on the road.
Who Is Responsible for a Motorcycle Accident?
Liability is a crucial factor in motorcycle collisions. Much like auto accidents, it's necessary to prove negligence by the other person involved. If you sustain any injury, even if it's minor, you could hold the negligent driver financially responsible.
In Oklahoma, you must prove the following facts of negligence to pursue compensation:
The other motorist owed you a duty of care;
They breached that duty of care by their action or inaction; and
Their recklessness resulted in your injury.
Obtaining evidence helps to prove another person's negligence after a motorcycle crash.
Before you leave the scene, you must retrieve the following information:
The at-fault individual's name, contact info, and auto insurance carrier and policy number
Photos of the wreck, including damage to your motorcycle and any vehicle involved
A crash report from the investigating officer
Name and phone number of all witnesses to the accident
The information listed above could sufficiently prove the other motorist caused the accident. After filing a claim with their auto insurance, you can submit the evidence you found to seek a settlement. The money you receive could reimburse you for your resulting expenses, such as medical bills and lost wages.
Behaviors Associated with Motorcycle Accidents
It's common for drivers of cars and other vehicles to exhibit dangerous behavior around motorcycles. Those unaware of your presence or who don't obey basic traffic laws could put you at risk. The most common reasons motorcycle occupants get injured by others include the following:
Distractions, such as texting, checking email, or looking at a GPS
Impairment of drugs or alcohol
Speeding
Failure to yield the right of way
Failure to check blind spots before merging
Tailgating
Disobeying traffic signs and signals
When someone chooses to drive erratically or take their attention off the road in front of them, it's usually the motorcyclist who suffers the consequences. Since they have very little protection, an individual riding a motorcycle could experience a range of serious injuries, such as:
Lacerations or open wounds
Road rash
Burns
Concussion or traumatic brain injury
Nerve damage
Spinal cord damage or paralysis
Neck injury
Broken bones
An accident can occur in the blink of an eye. The cost of reckless driving, whether texting, speeding, or driving too close to a motorcyclist, is too high.
Common Expenses for Motorcyclists
Whether a passenger vehicle or another motorcycle hits you, there's a good chance they have insurance. Oklahoma law requires all vehicle owners and operators to carry liability insurance. That provides coverage for those injured in an accident.
Depending on the severity of your injury, you could receive the maximum coverage listed on the policy. The liability limit usually covers the following losses:
Medical bills
Lost wages
Vehicle repair and replacement
Disfigurement
Pain and suffering (with specific policy limits)
Emotional trauma (with specific policy limits)
Death benefits
If the insurance company approves your claim, you can pursue a settlement that pays for your treatment and other bills.
Should I File an Insurance Claim or Lawsuit?
It depends. You could sue for a financial award if you believe the other person displayed careless actions. Under different circumstances, an insurance claim could provide sufficient compensation.
In Oklahoma, it's the law to report an accident that resulted in injuries. Call 911 so the police can come to the scene and investigate the crash. A copy of the police report will show who caused the accident and if anyone sought medical treatment.
Even if you don't think your injury is severe, you should still undergo an evaluation. Medical records are vital in any claim. It shows the insurance adjuster that your injury resulted from the collision as opposed to a previous medical condition.
If you file a lawsuit against the negligent motorist, there's a strict deadline known as a statute of limitations. In Oklahoma, the statute of limitations for a motorcycle accident is two years. That means you have two years from the crash date to bring legal action against someone else.
Do I Need to Hire a Tulsa Motorcycle Accident Lawyer?
Seeking legal representation ensures you receive the maximum compensation available. The average person doesn't understand insurance policies or state laws surrounding motorcycle accidents. If you don't know how the process works, you'll likely make mistakes that could hurt your case.
Abel Law Firm isn't a jack of all trades. Focusing on personal injury cases gives us skills and knowledge that help us succeed. We understand what insurance companies look for to determine a settlement amount. If you enter negotiations alone, there's a good chance you'll walk away with much less than you deserve.
How Will Abel Law Firm Win My Case?
When you hire one of our Tulsa motorcycle accident lawyers, we'll investigate the crash and review each detail to prove the other person's negligence. We'll efficiently secure essential evidence before it gets damaged or lost. Some of the critical pieces of evidence we'll need includes:
Copies of insurance policies
Police reports
Witness statements
Video surveillance
Photos
Vehicle estimates and repair bills
Your medical records
Insurance companies don't intimidate us. We'll fight hard until we reach a favorable outcome in your case. If you have a specific number in mind, we'll try to reach your goal. It's our job to make sure you're satisfied with the results.
You won't have to lift a finger throughout the entire process. We'll handle all aspects of the case for you while you're recovering from your injuries. We can submit all documents, fill out forms on your behalf, and negotiate a final settlement for you. If your claim gets denied or the adjuster refuses to raise the compensation to an acceptable amount, we'll take your case to court.
Our litigation attorneys handle complex lawsuits throughout Oklahoma. Your motorcycle injury probably caused a debilitating injury that required many months of treatment. Medical bills add up over time and are difficult to afford.
In any lawsuit, we use the full weight of our experience and resources to prove the other motorist's negligence. We'll explain how that person's negligence caused your suffering. We never back down from a fight and won't give up until we seek the justice you deserve.
Our Experience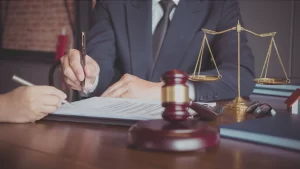 Senior Partner Ed Abel founded Abel Law Firm in 1976. Since then, we've won millions of dollars for our clients throughout Oklahoma. With a combined experience of over 130 years, our attorneys know how to navigate the complicated legal process.
Each attorney focuses on specific areas of the law. We understand how to tackle motorcycle accidents and other cases because of our history with them. We understand the importance of hiring a lawyer who won't let anything fall through the cracks.
What if I Don't Live in Oklahoma?
If your motorcycle crash occurred in Oklahoma, you'll need a licensed lawyer. Even if you live on the other side of the country, we can represent you in your case.
You won't have to travel to our office for appointments. We can speak with you over the phone and send legal documents through email or fax.
How Do I Schedule an Appointment?
Call (405) 239-7046 or use our contact form to schedule an initial consultation. The Tulsa injury attorneys at Abel Law Firm provide a free case evaluation for all prospective clients. There's no risk of receiving legal advice from one of our Tulsa motorcycle accident lawyers.
We'll review the details of your motorcycle accident and injuries to determine if you have a solid case. If you decide you want to move forward, we'll get to work immediately. Call us today if you would like to pursue the compensation you deserve.