Like many other cities in the United States, Oklahoma City offers residents and visitors the option of renting bicycles to get around town. Our city's bike-share program began in 2012, and since then, more than 1,800 dockless bicycles have been added across the city. Bike-share programs offer a convenient and economical method for traveling to your points of destination while allowing you to get out in the fresh air and sunshine for some exercise.
However, despite being a fun and affordable way to get around, bicycles offer essentially no protection for their riders when they become involved in accidents with motor vehicles. Even in low-speed collisions, cyclists can suffer serious injuries, leaving victims with exorbitant medical costs and perhaps lost wages for having to take time off of work to recover.
Although bike-share accidents can happen for a variety of reasons, one common cause is from what are called 'sideswipe accidents.' This is when another vehicle drifts into your path while you are both traveling in the same direction, and these types of collisions can cause serious injuries to you as well as heavy damage to your bike.
If you suffered a serious injury in a sideswipe accident caused by the driver of a motor vehicle while you were riding a bike-share bicycle in Oklahoma City, you may have options for pursuing compensation. You can contact the Oklahoma bikeshare accident lawyers at Abel Law Firm at (405) 239-7046, or contact us online to discuss your rights and legal options.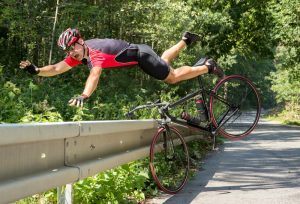 What is a Sideswipe Accident?
The American Automobile Association (AAA) defines a sideswipe accident as one in which two vehicles collide along their sides. This most commonly occurs when the two vehicles are travelling in the same lane and same direction of travel, and one vehicle drifts into the other lane and swipes the other vehicle along its side. When these types of collisions occur between larger passenger vehicles, they typically result in little more than damage to the sides of the vehicles. Even if the accident is more serious with one or both cars sustaining heavy damage, a vehicle's enclosure offers a level of protection to the vehicle occupants, thereby helping to reduce the severity of any resulting injuries.
Of course, bicycles do not have doors, side panels, or roofs, so bicyclists usually fare a lot worse in an accident with a motor vehicle, even in low-speed collisions. Although helmets are important pieces of safety equipment to wear while riding a bicycle, they do not protect the torso or extremities from harm. Injuries from a sideswipe bike-share accident can include cuts, abrasions and road rash, severe bruising, internal bleeding, broken bones, and more. Even worse, the sideswipe collision may force a cyclist into other lanes of traffic or off the road all together, which can lead to catastrophic and even fatal injuries.
Bike-Share Riders Have Equal Rights on the Road
Most seasoned cyclists understand they must comply with various traffic laws and regulations, many of which are the same for motor vehicle drivers, such as signaling for a turn, stopping at traffic lights and stop signs, etc. However, according to Bike Oklahoma, some laws do not pertain to cyclists, such as those involving posted speed limits, for instance, but bicyclists may have to comply with local helmet laws or other municipal regulations.
Regardless, bicyclists have the same right to use the road as other vehicle drivers as long as they are not impeding traffic or acting recklessly as to put others in danger. Many municipalities have their own laws and regulations regarding on-road bicycle traffic, and our attorneys could help you understand Oklahoma City's specific laws regarding this area. Contact us today.
Why You Need a Lawyer After a Bike-Share Sideswipe Accident
Because of the complexities involved with these types of collisions, it is important to determine the exact cause of an accident before pursuing compensation. Our lawyers have years of experience successfully handling sideswipe accidents involving rented bicycles, and we will carefully explain your rights and options to help you make informed decisions regarding your ability to get the compensation you deserve.
After the accident, seek immediate medical attention, even if you do not feel any pain at the time. Some injuries can take a few days or longer to fully manifest, and you may begin feeling pain and discomfort in your back, arms, legs, and other areas. Our priority is to make sure you are all right, and you need to visit your doctor or hospital if you have pain anywhere in your body that will not go away.
If you were physically able when the collision occurred, you hopefully worked with authorities at the accident scene and honestly explained exactly what happened. Maybe you had the presence of mind to take photos of the accident scene and get the necessary information from the vehicle driver. Also, many bikeshare companies have their own collision insurance for patrons who are involved in accidents, and some will not cover you unless you have complied with their specific requirements. You should check with them to make sure you have done all you need to do to comply with their requirements and enlist the services of a lawyer for help.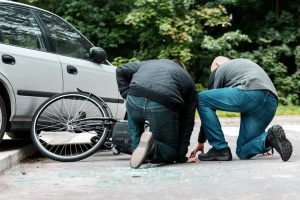 Contact Us as Soon as Possible
Because of the severity and complexity of bike-share sideswipe accidents, you need a lawyer on your side who understands this complicated legal area and will strongly advocate on your behalf. The attorneys at Abel Law Firm have the experience and knowledge necessary to help you make important and informed decisions regarding your options, and we will fight hard to help you obtain the maximum amount of compensation you deserve. We have achieved a long record of securing substantial compensation for our injury clients, and our law firm has received numerous testimonials from others we have had the pleasure to serve.
For a 100% free and confidential consultation with one of our Oklahoma City bikeshare accident lawyers. Reach out to us at (405) 239-7046 or through our contact page.