Spokies, Oklahoma City's bike-share program, has been active since 2012. With more than 1800 dockless bikes (bicycles with integrated locks letting them be left at any bike rack) in the program, this low-cost and energy-efficient ride-share plan has been duplicated dozens of times around the city and around the nation. If you are the victim of a bike share accident from distracted driving, you are entitled to compensation.
That's good news for Oklahoma's low-income commuters who need a way to get from home or bus stop to work. But not as good for anyone who has been injured while riding on one of these bikes. Riding on a bicycle, whether your own or a ride-share, is hazardous. An increasing cause of accidents is bike-share accidents from distracted driving.
If you've been injured while you were riding a bike-share bicycle and the accident was someone else's fault, call the Oklahoma City rent-a-bike accident attorneys of Abel Law Firm at (405) 239-7046 for a free consultation. We can help you figure out who was at fault and whether you have a personal injury case for compensation.
What Is Distracted Driving?
In Oklahoma, it is illegal to drive while texting. Oklahoma statute 47-11-901(b) makes it an infraction punishable by a $100 fine for any driver to "drive in such a manner that poses an articulable danger to other persons on the roadway." Commercial drivers and public transit drivers are prohibited not only from texting but also from making phone calls while driving.
Of course, that does not mean that people don't drive and text every day. But it does mean that if the driver who causes an accident was texting, their liability is no longer in much doubt. In Oklahoma, a police officer can pull you over just for texting and driving, as for any other traffic stop, even if you are not speeding or violating any other traffic law.
Other types of distractions include:
Children or pets in the car, particularly unrestrained pets. If you have seen someone driving with a poodle in their lap and wondered how they can drive safely that way, the answer is, they can't.
GPS and touchscreen dashboard devices. Just like texting, these devices require the driver to look away from the road and focus on the screen. Unlike old-style radios that were controlled by knobs and hearing, modern radios must be looked at, leading to distraction.
Food. Hamburgers and french fries are one thing, but people have been seen eating soup, salad, and ramen while driving. Anything that needs dexterity is too hazardous to eat while on the move.
Why Is Texting So Dangerous?
Everyone believes that they can text and drive safely. As soon as someone says it is illegal, you are bound to hear the excuse: "I just look down for a second! I drive really slowly! I only do it at the light"! There is no safe way to text and drive, and there is no way to do it legally. Texting is unsafe at every speed.
It turns out that texting while driving has a lot in common with DUI. The National Highway Transportation Safety Administration (NHTSA) has found that the actions of someone texting and driving look a lot like someone who is drunk. These actions include: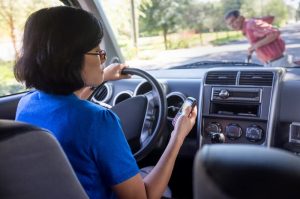 Swerving across lanes
Inconsistent speed and erratic speed changes
Ignoring traffic signs and signals
Running off the road or onto soft shoulders
Ignoring other drivers or stationary objects
This is because every time you text, you must completely disengage your brain from thinking and looking at the important parts of driving and think and look at something else. There is no way you can look back in time to make corrections if anything goes wrong.
What This Has to Do with Bikes
When you get on a bike, you are required to obey the same rules of the road as if you were driving a car. You must travel in the same lanes, go in the same direction, and stop at the same red lights. The difference is that you have no protection if you get hit by two tons of metal traveling three times your speed. Even a light tap from a car's bumper is going to cause you serious injury.
Distracted drivers are a big hazard to bike riders because of the lower visibility of a bike rider. When a texting driver looks away from the road. They can miss seeing a bike swing in front of their car. If you are riding your bike, you reasonably expect everyone to follow the rules of the road. You don't expect them to hit you because they were reading their latest text message.
Why Bike-Share Bikes Are More Vulnerable
Although bike-share is a great thing for riders who need an extra lift, it can be dangerous in accidents because of a lack of safety equipment. Bike riders in Oklahoma City must wear helmets, but there is no law currently requiring bike-share companies to provide them.
This means if you are hit by a distracted driver, you probably won't have a helmet or other safety equipment unless you habitually carry one with you. If you routinely use bike-share as a means of transportation, it is recommended that you get a bike helmet and wear it when you ride the bike to and from work.
How We Can Help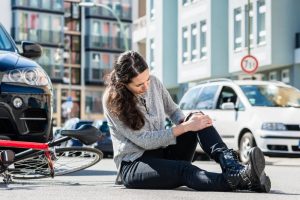 If you use bike-share as part of your daily commute, you need to be alert for distracted drivers, whether they are texting or have any other distractions going on in their cars. Noisy children, passengers, even GPS devices or touchscreens can pull focus away from the road at critical times.
If you are involved in an accident, the first thing you should do is seek medical attention, even if you think you are okay. Some injuries can take time to appear, such as neck and back injuries. You should always be assessed by a doctor in cases where the mechanism of injury was auto-versus-bike, because of the difference in size.
Then you should think about obtaining legal advice. At Abel Law Firm, we want to get you just compensation for any injury you suffer if you have been hurt through someone's negligence or carelessness. If you believe the driver of the car may have been distracted by texting or other cause, we can help you discover this.
Get Help Now
Contact Abel Law Firm at (405) 239-7046 today if you have been involved in any bike-share accident. Our team will assess your case and let you know the best way to file your claim and help you get the recovery you deserve.