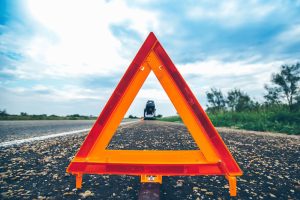 The advent of bike-sharing services in Oklahoma has undoubtedly provided a convenient, affordable, and environmentally friendly way of traveling and commuting for many people across the state. However, with these benefits comes the potential for serious danger, especially if you are sharing the road with automobiles. People are often hurt in bike share failure to yield accidents.
If you have been injured or someone you love has been killed in a bike-share accident in which a driver failed to yield the right of way, the experienced Oklahoma City rent-a-bike injury attorneys of Abel Law Firm are here to help. To discuss your legal options and see what your opportunities for financial recovery might be, contact us today at (405) 239-7046.
Bicycle Regulations
In the state of Oklahoma, bicycles on the road have the same legal status, rights, and responsibilities as other vehicles. This means that, like the drivers of passenger cars and motorcycles, bicyclists are required to obey traffic signs and signals and ride in the same direction as motorized traffic. State law also mandates that cyclists use white headlamps that are visible at 500 feet and red rear reflectors that can be seen between 50 and 300 feet. Because of these laws, all bike-share cycles are equipped with this equipment. The laws are in place both for the safety of the cyclists themselves and the other road users in their vicinity.
Nevertheless, even if a bicycle rider follows all these precautions to the letter, they are still at risk of being injured or killed by negligent drivers who do not recognize or respect cyclists' right to have equal access to the road. One of the most common types of accidents that endanger cyclists occurs when a driver of another vehicle fails to yield the right of way to a cyclist.
Injuries Caused by Failure to Yield Bicycle Accidents
When a driver fails to yield to a bicyclist's right of way, the results can be catastrophically life-altering or even fatal. Even if the cyclist is wearing a helmet, it may not be enough to fully protect them from the impact of a large moving vehicle or from the impact of their own head against the concrete. Furthermore, other parts of the body are vulnerable, as well. Unfortunately, many drivers of automobiles are not conscientious enough to drive safely in the presence of cyclists, making bike riders susceptible to serious harm.
Some of the physical trauma that a bike rider can suffer when a vehicle collides with a bicycle include:
Dismemberment or injuries requiring amputation
Fractured bones
Internal bleeding
Lacerations and bruises
Road rash
Spinal cord injuries
Total or partial paralysis
Traumatic brain injuries (TBI)
Wrongful death
In some instances, accidents involving bike-share users can be even worse. This is because, even though Oklahoma law requires bicyclists to wear a helmet when traveling on the road, there is no law that requires bike-share companies to provide them.
If a bike rider is fortunate enough to survive a failure to yield accident, the injuries can be so severe that recovery can take weeks, months, or even years. All the while, bills for medical treatment, missed wages from time off work, and other out-of-pocket expenses can create a financial situation that feels impossible for the victim of the accident to overcome.
Compensation for Failure to Yield Accidents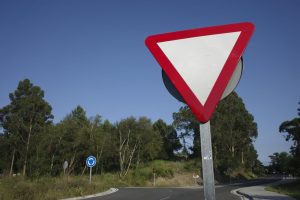 When a person is injured in a failure to yield accident that wasn't their fault, they might be entitled to financial compensation. Making a claim against the at-fault party can help to pay for the medical and rehabilitation bills, lost wages, property damage, and other expenses that have come about due to the injuries they sustained. Furthermore, they may also be eligible to receive compensation for the non-economic losses from the accident, such as the physical and psychological pain and suffering they have endured.
Working with a team of experienced Oklahoma City personal injury attorneys can be invaluable in your quest to recover the money you deserve.
Failure to Yield Bicycle Accidents Can Be Deadly
The National Highway Traffic Safety Administration (NHTSA) notes that fatalities in failure to yield accidents that involve bike riders have increased by more than a factor of two since 2005.
If you have lost a spouse, child, parent, or grandparent in a failure to yield bicycle accident, you have a legal right to file a wrongful death lawsuit. This provision allows the family members of the deceased individual to receive compensation for losses such as:
Funeral and burial costs
Hospitalization costs and medical expenses
Lost wages and future lost earnings
Loss of companionship
Loss of consortium
Loss of familial support
Pain and suffering the decedent experienced before their death
Grief the family members experienced because of the loved one's death
If a family chooses to seek monetary damages through trial or settlement negotiations, Oklahoma law requires them to do so within two years of the death of their loved one.
A knowledgeable wrongful death attorney can provide the assistance and support a family needs during the process of a wrongful death jury trial or settlement negotiation.
How Can I Keep Myself Safe from a Failure to Yield Accident?
Maintaining awareness and practicing safe cycling can help reduce your chances of being involved in a failure to yield collision. This includes:
Remaining alert to your surroundings
Using lights at night
Riding in the direction of traffic, on the right side of the road or lane
Keeping at least one hand on your handlebars
Obeying all traffic signs and signals
Wearing reflective gear
Contact an Experienced Failure to Yield Bike-Share Accident Lawyer Today
Even if you are in the habit of following all the above advice, you may still fall victim to a failure to yield injury due to the negligence of another road user. If this happens, the seasoned Oklahoma City personal injury lawyers at Abel Law Firm have the experience and skill necessary to build a strong case for you, and we will work tirelessly to get justice for you.
Contact us today for a free consultation if you were involved in a bike share failure to yield accident. We will give you a frank assessment of your legal options. If you choose to retain our services, you won't have to pay anything unless and until we have recovered money on your behalf. That is how confident we are in our ability to get you the compensation you deserve. Call us now at (405) 239-7046.