Why Some Personal Injury Cases Go to Trial
Posted on Thursday, November 10th, 2022 at 3:56 pm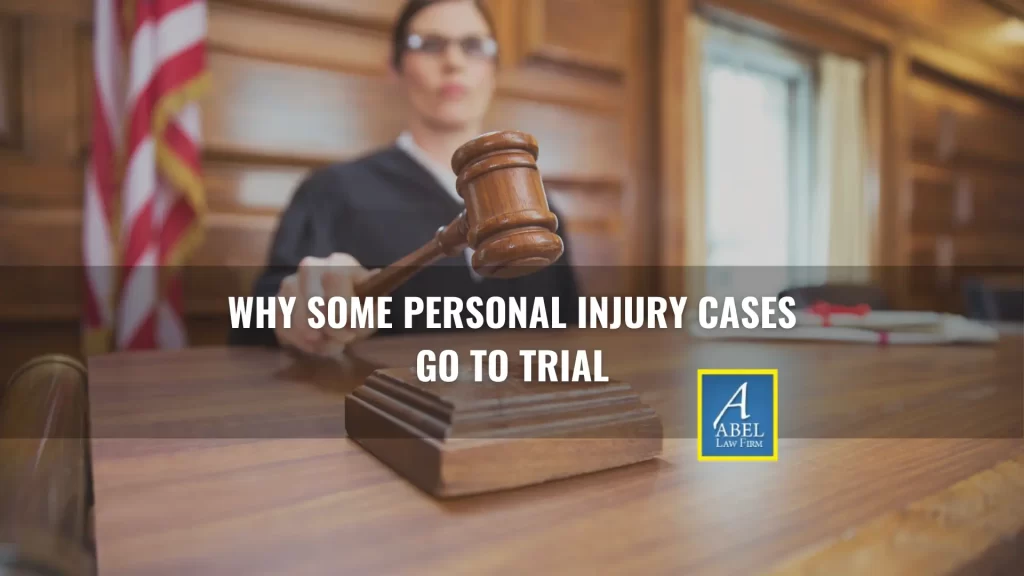 Many personal injury cases settle outside of court. A trial isn't necessary when the plaintiff and defendant agree on a settlement during negotiations. Typically, avoiding trial is more cost-effective and gives each party more control over the case's outcome. Some personal injury cases go to trial when the plaintiff believes the settlement was inadequate.
However, some plaintiffs choose to take their cases to trial if they believe they are entitled to more money than the defendant is willing to offer. Negotiating with insurance companies is often challenging. Insurers want to avoid significant payouts. During the insurance claim, they will likely try to minimize the case's value and offer little money.
Since accident victims might fear going to trial and potentially losing, settling for inadequate compensation is common. If claimants haven't hired a lawyer, they might believe the offer in front of them is the best they will get. However, having an experienced legal team to help with the process allows injured plaintiffs the opportunity to take their cases further. Rejecting settlements that are too low and proceeding to trial is the more attractive option.
The most common reasons personal injury cases go to trial are:
The defense attorney believes they can win the case
Opposing parties disagree on who is liable for the accident
The defendant doesn't want to settle because they believe the plaintiff's demands are too high
The insurance company wants to avoid setting a precedent for the type of issue involved in the case
Each side calculates a significantly different monetary value for the plaintiff's losses
The plaintiff believes the insurance company acted in bad faith while handling the insurance claim
Settling the matter during mediation isn't successful
The plaintiff's attorney has substantial evidence to prove the defendant is at fault
Opposing parties can't cooperate
What Is a Trial Lawyer?
A trial lawyer represents clients in lawsuits and has the necessary experience to take cases to trial in court. In personal injury matters, a trial lawyer represents the plaintiff during a civil lawsuit. Civil lawsuits can involve various circumstances, such as:
When you hire a personal injury attorney, choosing one with trial experience is crucial. Some lawyers never see the inside of the courtroom and attempt to settle cases whenever possible. Settling might not be in the best interests of their clients. That's why you should work with someone willing to proceed to trial if mediation and settlement talks are unsuccessful.
Trial attorneys guide their clients during the legal process and advise them about their options for pursuing compensation. They can create a legal strategy, oversee depositions, gather evidence to present in court and argue cases before a judge and jury. They also file appeals if they believe the outcome of a trial is unreasonable or unfair.
A trial lawyer must obtain a J.D. degree and have a special license to practice law in the states where they represent clients. They should know how to make persuasive and strong arguments at trial to fight for accident victims to the best of their ability. The job also requires in-depth knowledge of state laws, legal procedures, and other relevant information. They should be able to research matters thoroughly and develop a plan to prove the defendant is liable for the plaintiff's injuries.
The most common responsibilities of a trial lawyer include:
Completing each step of the legal process completely and accurately
Filing necessary documentation within required timeframes
Developing and implementing strategies to mitigate risks of damaging the case during pretrial phases
Drafting and reviewing motions to file with the court
Obtaining valuable evidence to support the arguments made during the trial
Navigating the discovery process efficiently
Locating witnesses to testify on behalf of the plaintiff
Updating the client on the status of the lawsuit
Directing support staff and the legal team on what to do while working on the case
Preparing briefs, reports, motions, pleadings, and other necessary paperwork
Analyzing evidence and preparing for the upcoming trial
Identifying and addressing issues that might arise and preparing possible solutions
Speak to an Experienced Personal Injury Lawyer Today
Abel Law Firm has represented injured clients in Oklahoma City for over 45 years. Our award-winning trial attorneys have received recognition from Super Lawyers, the Million Dollar Advocates Forum, and other prestigious organizations. We hold a 10.0 Superb rating from Avvo and an AV Preeminent rating from Martindale-Hubbell, the highest possible rating law firms can receive.
You can count on us to advocate for your rights and fight for the compensation and justice you deserve. Call our Oklahoma City personal injury attorneys at (405) 239-7046 for a free consultation today if you were hurt in an accident due to someone else's negligence.