How to Prevent Autumn Motorcycle Accidents
Posted on Monday, August 15th, 2022 at 3:48 pm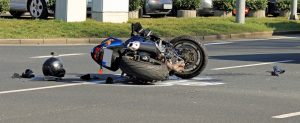 Autumn is arguably the best season to take a motorcycle ride. The weather is ideal, especially for riders who have braved summer heat and winter conditions. In some parts of the U.S., nature's putting on a colorful show. And no matter where you are, there's likely a fantastic festival or event close enough for a weekend ride.
And yet, autumn is a time of year when motorcycle riders need to take special care to be safe. While it's not as unpredictable as winter, autumn can bring some weather surprises. In addition, fall means that school is starting up again. That makes it a season in which traffic and traffic patterns change more than any other. With all that in mind, here are some tips on how to prevent autumn motorcycle accidents.  Plus how to protect yourself should you get into a motorcycle accident.
Practice Makes Perfect
It's great to get out and explore new terrain on your motorcycle, but you want to make sure you can handle everything you'll encounter out on the road. The National Traffic Highway Safety Administration, in an article on motorcycle safety, advises mastering your bike in a familiar area before you set off into the unknown. The NTHSA suggests you take the time to get used to a new or new-to-you motorcycle because handling and responsiveness are different for each motorcycle.
Watch Out for Hazards
All the practice in the world won't safeguard you from what you might encounter out on a ride. A pothole or a sharp turn that surprises you could cause you to take a spill and get hurt. Make sure you're scanning the road constantly for anything that might get in the way of a safe, smooth ride.
SafeRide.com makes a good point about road hazards and riding in autumn. While fall foliage is a big reason that a lot of motorcyclists set out on rides in that season, piles of leaves can hide hazards that can cause accidents. Take care not to ride through one of those piles. You can't know what might be underneath.
Know Where You're Going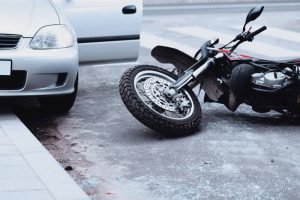 There's nothing like discovering places you've never been before while riding a motorcycle. But there's also something to be said for having an idea of where you're going and what to expect so you don't end up lost, stranded, or in an accident. Make sure you map out and research your route before you set out. Look online, and you'll see some great resources to help you prepare for your adventure.
Dress for the Occasion
Autumn weather is fantastic – until it's not. Fall is a season when temperatures can vary wildly. If you get too cold too quickly, you might feel exhausted, and your senses might be diminished, as well. Don't get caught unprepared. A leather jacket is a great standby for keeping you warm, protecting you in falls, and just looking good.
The NTHSA advises making sure your arms and legs are covered completely. To keep your legs protected, heavy denim jeans are a good standby, and boots should cover at least your ankles.
Depending on when you're riding and what the weather says, dressing in layers will allow you to adjust to the great outdoors. You should also make sure to wear a weather-appropriate pair of riding gloves. Those will protect your hands from the elements and give you more control over your bike.
Wear a Helmet
One of the top safeguards against serious injury or death for motorcyclists is to put a helmet on. The NTHSA has guidelines beyond "any helmet will do." Always wear a helmet. Choose one that meets the regulations set forth by the U.S. Department of Transportation (DOT) Federal Motor Vehicle Safety Standard (FMVSS) 218. Your helmet should have a DOT symbol on the back on the outside of the helmet.
What to Do if You Get in an Accident
Despite your best efforts, and despite how safely you operate your bike, you might still get into a motorcycle accident out on the Oklahoma roads. If that happens to you, get medical attention as soon as you possibly can. If you're injured, you might not know it right away, and a doctor's diagnosis could get you on the road to recovery more quickly.
Next, make sure you contact your insurance company immediately to report the accident.
And then, if someone else caused your accident, contact the Oklahoma City motorcycle accident attorneys of Abel Law Firm at (405) 239-7046 to investigate your options. Our personal injury attorneys have experience in dealing with Oklahoma City motorcycle accidents and can help you take action.