When Can I Expect My Compensation?
Posted on Saturday, January 1st, 2022 at 6:43 pm
A claim or a lawsuit for an injury that was not your fault must go through several steps before you can expect to receive financial compensation, or damages. You must submit an insurance claim to the at-fault party's insurance company, after which they investigate the claim.
In many cases, they will send an insurance adjuster to ask questions and possibly offer you an initial settlement. It's important that you do not speak with an insurance adjuster without your Oklahoma personal injury attorney present.
Insurance adjusters are skilled negotiators. Their goal is to protect the financial interests of their company. This means the first settlement offer is often not the best. Insurance companies are protected by skilled and experienced attorneys. You should be too.
If your attorney is unable to negotiate a fair settlement with the insurance company, you and your attorney may decide to take the case to court. In Oklahoma, there is a two-year statute of limitations. This means you must submit a lawsuit within two years of the date of the injury or accident. If you don't, the court will likely dismiss your case.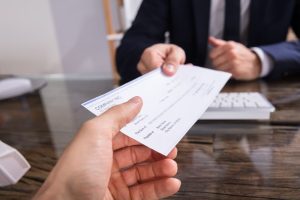 What Is a Settlement?
A settlement is reached when you and the at-fault party insurance company reach a compromise on the amount of compensation you will be paid for the injuries you incurred. Any settlement agreement the parties sign is a binding contract. If a settlement is not possible, you may decide to take your case to court.
What Is an Award?
When you take your case to court, if the court determines you should be paid compensation, they will enter a verdict in your favor and make an award of the amount of compensation, or "damages," you should be paid by the at-fault party.
How Personal Injury Compensation Works in Oklahoma
Once an agreement has been made between the victim and the at-fault party's insurance company, or an award has been made by the court, it's important to know when and how the money gets paid.
To date, there is no consistent answer to this question. In some cases, payment of the settlement becomes part of the agreement. In other words, the parties may agree that the payment is made over a certain number of days or weeks.
Some time may be necessary for the insurance company to order the check, have it printed, and then sent. These checks often passed through several hands before reaching you.
When the attorney's fees are taken from the settlement, the check is first deposited into the client's trust account that the law firm holds. It must have been clear before the fees and expenses are deducted, and a new check is issued.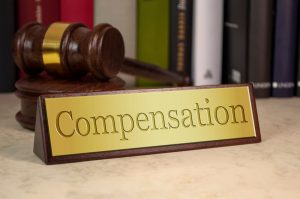 Is My Compensation Taxable?
The amount recovered in compensation will depend on your individual circumstances and other factors. As you're waiting for your compensation, you may have questions about whether the money will be taxed by the IRS.
It is important to know that, provided the compensation you receive is for a physical injury, the U.S. tax code excludes settlements and awards from taxation. The definition of a physical injury includes injuries and even illnesses that are caused by another person's negligence. Other losses that your compensation may cover that should be tax-exempt include lost wages, pain and suffering, and emotional distress.
The IRS will pursue taxes from the compensation you receive from an award of punitive damages. This is compensation the court awards to the plaintiff as punishment for the negligence that caused the accident. Punitive damages are rare and are only awarded by the court. Punitive damages are always taxable.
If your trust account accumulates interest on the judgment, the interest is taxable. Additionally, if compensation is awarded only for emotional damage, it is taxable. In other words, if your personal injury suit was for emotional distress or employment discrimination, without physical injury, the compensation may be taxed.
Abel Law Firm Is Ready to Help You
When you work with the legal team at Abel Law Firm, we walk you through every step of a personal injury claim or case. We make sure you are kept up to date with what is happening with your case and we involve you in all the decision-making.
With over 130 years of legal experience, our team recognizes that you have a unique story, and we understand the financial and emotional burden that often accompanies an accident or injury. We are here to listen to your story and fight aggressively to protect your rights.
Our attorneys are accomplished negotiators and tenacious litigators. This is evidenced by our results. Before hiring a personal injury attorney, it is important to meet with them, learn the process they use, and understand the care that your case will be given.
Our legal team encourages you to call and schedule a free case evaluation. You'll be able to meet our staff, learn about our skills, and receive advice on your next best steps to recover damages for your injuries. If you were injured in an accident by someone else's negligence, you deserve the experienced and compassionate representation you'll receive from Abel Law Firm. Contact our office today at (405) 239-7046 or online to schedule your free case evaluation.