Who is Liable in a Dog Bite Claim?
Posted on Friday, July 15th, 2022 at 6:27 pm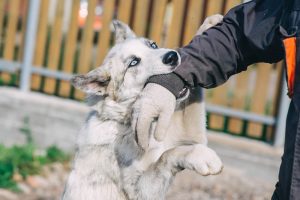 Dogs are usually faithful creatures, ready to love and serve. Unfortunately, some people still get hurt in dog attacks, and America's emergency rooms treated about 1,000 dog bite-related injuries per day in a recent period. If a dog bit you, you may wonder what Oklahoma's laws are surrounding dog bites and who could be liable for the devastating injuries that can result. In this post, we'll cover both of those topics.
Oklahoma's Liability Law for Dog Bites
Title 4, Chapter 42 of the Oklahoma Statutes contains the state's basic dog bite liability law. The law allows a person injured by a dog bite to obtain compensation from the dog's owners. The caveat to this is that the person who was injured must have been in a location where they had a right to be.
If a dog attacks someone without provocation, its owner is liable for all injuries and losses the victim sustains. The law defines an "owner" as a person, business, or other organization, and they need only have custody of the dog at the time of the attack.
In an Oklahoma dog bite case, plaintiffs do not have as much of the burden of proof as they might in other states. However, while the law is strict toward dog owners, it only applies when the injured person was legally at the attack's site. For example, a dog owner is liable if the attack happened:
To someone in a public place, such as on sidewalks, in public parks, or in businesses
To a public employee in the course of their duties (for example, mail carriers or someone reading a utility meter)
To someone performing work on the owner's property
To someone who visited the owner's property by invitation and for a "lawful purpose"
Dog owners may be immune from liability if:
The attacked person was trespassing on the property
The attacked person had previously abused the dog
The attack happened while the person was committing a crime
Dangerous Dogs
A "dangerous dog" is usually one who has previously bitten someone or threatened to bite someone when unprovoked.
While the owner always maintains liability for their dog's attacks because of Oklahoma's strict liability laws, it is not considered "dangerous" unless it has attacked or bitten someone before. Once their dog has attacked someone, the owner must take proactive steps to ensure it does not attack again. They may need to:
Properly train the dog and ensure it stays indoors or in an enclosed outdoor space
Muzzle and leash the dog when it is outside the enclosure
Place fencing around the property and signage warning of a dangerous dog
Carry $50,000 or more in liability insurance for dog attacks
Register the dog with their local government and pay annual fees
Obtain certificates from a local animal control agency
Microchip and spay/neuter the dog
Does Oklahoma Regulate Dangerous Dog Breeds?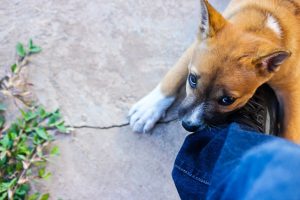 Oklahoma does not regulate dangerous dog breeds at a state level. However, localities may have ordinances targeting owners of these dogs. Oklahoma City, for example, keeps a dangerous dog registry, and owners of dogs that attack someone without provocation or damage property in an attack may need to register their dogs.
How Do I Get Compensation After a Dog Bite?
Often, dog bites occur in the homes of friends or family members. If that's the case, the injured person might be reluctant to ask their friend or relative for money for their bite-related expenses. However, in many cases, the dog's owner's homeowner policy might provide coverage for dog bites. If that's the case, the injured person's attorney can deal with the homeowner's insurance company, and the relationship between the dog owner and the injured person can remain intact.
If you were bitten in another public place, you could pursue compensation from the dog's owner or the person who was in control of the dog at the time of the bite. You could obtain compensation for your medical costs and other bite-related losses from their insurance company. If negotiations with the insurance company fail, you and your lawyer could file a lawsuit against the at-fault party.
Consult a Dog Bite Attorney Today
If a dog attacked and injured you in Oklahoma City, don't wait to begin seeking the compensation you deserve. The Oklahoma City dog bite attorneys of Abel Law Firm offer free consultations where you can learn more about your legal options. We're prepared to help you investigate the attack, determine liability, and pursue compensation from the liable party.
The Abel Law Firm team has secured more than thirty million-dollar settlements and verdicts, and a former governor has recognized us for our work in the state's most influential personal injury lawsuits. We look forward to using the same compassionate skill to fight for you after a dog bite. Call us at (405) 239-7046 for a free, no-obligation case review.