What Is Mediation in a Personal Injury Case?
Posted on Wednesday, December 1st, 2021 at 8:29 pm
Mediation is a method of resolving legal disputes without going to trial. This tool is becoming a shared resource to replace court cases for personal injuries, particularly in areas like construction, where injuries happen frequently. In Oklahoma, mediation is used to avoid going to trial, which can take a very long time.  Many Oklahoma mediators generally settle over 90% of their cases, including personal injury cases.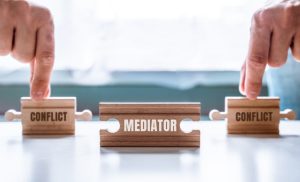 What Is Mediation?
Mediation is a neutral way to resolve disputes. All parties to the conflict have an equal say in the process, and the settlement terms, but the mediator does not. A mediator is a neutral person whose job is to help the injured party, the individual or individual's company who allegedly caused the injury, and everyone's attorneys, resolve all relevant matters to agree.
You can hire outside parties to help determine precisely the amount of damages that would be paid if all parties agree. Still, a mediator is not a judge or jury and has no ultimate say about the heart of the legal dispute. A mediator is a facilitator only. By law, the mediator cannot reveal what the parties say during the mediation.
Mediation sessions help the parties determine whether or not they can resolve a case without needing a trial. It's less formal than a trial, and in some instances, it's easier to be "heard" in mediation than in a trial, where everything is very structured.
Typically, a mediation involves several parties: the injured party, their attorney, the insurance company or private company representing the individual who allegedly caused the personal injury, the company's attorney or the individual's attorney, and the mediator.
Mediators are often retired judges or retired lawyers. By definition, they are a neutral party.
Mediators learn about the case when each side submits a "mediation statement" to the mediator. The mediation statement lays out the facts of the case from each side's perspective. Mediators cannot render binding legal decisions as a judge would.
We are in the third calendar year of the COVID-19 pandemic, about to reach the second anniversary of its widespread proliferation in the United States. Mediation of personal injury claims is often done virtually these days.
What Does Mediation Involve?
When you engage a lawyer to assist you with mediation, the steps they will take on your behalf include an initial consultation, accident investigation, demand package, and, if mediation fails, filing a lawsuit in court. Abel Law Firm offers free consultations for personal injury cases. The consultation is an opportunity to learn how to proceed with a case and whether you're entitled to compensation.
When your lawyer investigates your accident, they may collect items such as police reports, estimates of damages, medical bills, witness statements, accident scene photos, and any video surveillance that may be available. These items can be used as evidence at the mediation and if the mediation is unsuccessful, at trial.
Mediation often begins with a letter to the at-fault party or their attorney stating that the injured party is seeking mediation. During mediation, your lawyer will present the demand package to the at-fault party's lawyer. This will include "the magic number," which is the amount of money you seek for compensation for your injuries.
The initial offer from the at-fault party is rarely accepted. In this case, mediation is a little like shopping for a new home. It's a negotiation about how much compensation you may be entitled to for your injuries and losses.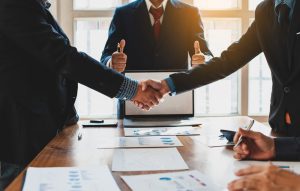 Benefits of Mediation
One benefit of mediation over trial or courtroom litigation is that no one is guaranteed to win. In litigation, someone always wins unless there is a mistrial. Also, appeals are not allowed in mediation. Since everyone wants to avoid litigation most of the time, this spurs everyone involved to do their best with the mediation.
Another benefit to mediation is that the parties involved may get more time to settle their dispute. Mediation may extend the statute of limitations in some cases.
However, litigation may still be necessary if the parties cannot resolve the dispute.
Suppose the mediation fails, and the case goes to trial. Factual items discovered during the mediation process may not be discussed by the parties who had used mediation to reach an agreement. Mediation is confidential.
Contact Us
Abel Law Firm handles personal injury cases for victims of car accidents, motorcycle accidents, construction accidents, scooter injuries, burn injuries, spinal cord injuries, trucking accidents, nursing home abuse, insurance disputes, bike-share (rent-a-bike) accidents, dog bites, and traumatic brain injuries. We can help you, too.
Abel Law Firm has recovered nearly a quarter-billion dollars in compensation for our clients. You can have our Oklahoma City personal injury lawyers review your case and answer all of your legal questions when you call us at (405) 239-7046 or complete an online contact form to schedule a free consultation today to see if mediation is right for your case.